Welcome to SunCloud Health
One of the nations most trusted names in treating substance use disorders, eating disorders, mood disorders and related trauma.
VIDEO: Watch co-founder, CEO and Medical Director Dr. Kim Dennis as she describes our unique treatment model for helping those with co-occurring disorders. Watch Now!
We are unique. Unlike many providers that say they can treat co-occurring substance use, eating disorders, mood disorders and related traumas, at SunCloud Health, we actually do. We don't toss around buzz words. We are recognized locally and nationally for treating you, the whole person, that's what we do best.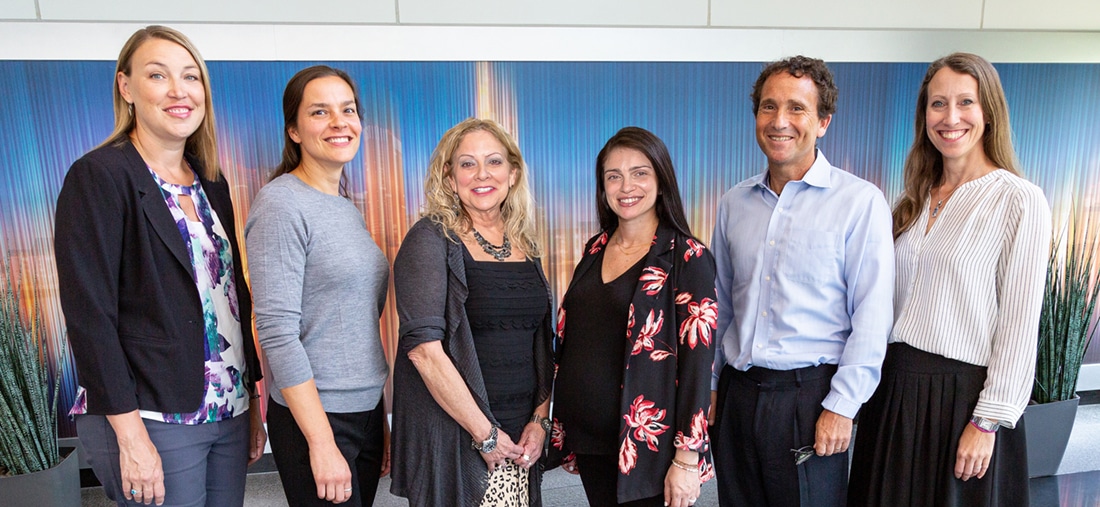 SunCloud Health's Leadership Team is committed to providing the best in-depth patient care, with over 75 years of combined therapy experience and over 100 years of combined personal recovery expertise.
Photo L/R: Kim Cimino, LMFT (Clinical Director), Lauren Pace, DO (Psychiatrist), Dr. Marcia Nickow, PSY.D., CADC, CGP (Organizational and Senior Clinical Adviser), Rita Ekelman, MBA, RDN, LDN, CD (Director of Nutrition and Outreach), David Newton, MBA (Director of Operations and Co-founder), Dr. Kimberly Dennis, MD, Medical Director (CEO and Co-founder)
We will help you reclaim your passion for life, inner strength and belief in yourself!
"We are ready to help you live a healthy, rewarding life beyond addiction substance abuse, eating disorders, mood disorders and the trauma that is often coupled with them."
— Dr. Kimberly Dennis, Founder and Medical Director
Are you in a dark place right now? Confused, frightened, unsure where to begin … wondering if life will ever be different for you? Things are about to change. At SunCloud Health, you will find a caring, experienced team to help you take the first steps toward a life of wellness. You can break free of the problems you are experiencing today. We'll help you get there.
Celebrating three years of SunCloud Health. What makes us unique? Read more about our commitment to building community through accountability model.
Why (and for whom) did we create SunCloud Health?
Watch as Dr. Kim Dennis explains.
Watch the video below and learn more from Lauren Pace, DO and psychiatrist, as she explains why we focus on co-occurring disorders.
Dr. Kim Dennis, Co-Founder and Medical Director at SunCloud Health, explains how SunCloud helps patients and their families overcome stigmas on mental health and addiction treatment.
SunCloud is special. The people who seek our guidance, are special. These human beings; our patients, have an endurance and stamina stronger than most of us can imagine. Every day they show up for treatment willing to face their own darkness, and to shine light on the wounds and pain which has remained hidden behind the shadow of addiction. Most of our patients come from broken family systems that are at minimum dysfunctional, which may include severe physical emotional and psychological abuse, neglect, bullying, abusive romantic partnerships, being marginalized for sexual and/or gender identity, and race.
A few things you should know about our Patients 
One thing each of our patients share in common is this: at some point, and at no fault of their own, our patients lost their footing on life's pathway. Whether they were misguided, mislead passively or forcefully, at some point, our patients lost sight of their connection to a Higher Power and Higher Purpose in life; a Spiritual connection which provides depth, meaning, and eternal peace. SunCloud is not allied with any religious sect or denomination, nor do we impose political beliefs on our patients, however we do enthusiastically support and encourage each of our patients to find their own truth and re-discover their passion for life by developing and exploring a relationship with a Higher Power of their own understanding. Addiction thrives in isolation. Recovery blossoms in togetherness and unity.
We often remind our Patient's (and ourselves) that giving back to others what you've been given, is a beautiful and powerful way to strengthen one's own recovery. Our treatment philosophy is rooted in spiritual principals and carrying the message of recovery is one that we practice as staff and encourage our patients to as well. Our lives become richer when we share the light within ourselves. Authenticity, passion and creative energy, and commitment to living authentically, is something that all of our patients are working hard to achieve every day. They all seek hope and inspiration every day.
Suffering from addiction, Mental illness and PTSD sucks the hope from your heart and replaces it with shame, guilt, regret and hopelessness. As our patients work on becoming whole, they are re-claiming their natural and God given gifts. Whether that be resuming an acting career, creating an algorithm for a web-designing site, or picking up the paint brush again, each of our patients craves hope.  Supporting our special patients at SunCloud in this endeavor is a meaningful and wonderful experience for all of us.
Hannah Carra, LCSW Group Therapist shares insights on what makes SunCloud Health a unique and special place for patients to find support on their individual journey to recovery.
Clinical Intern Emily Long shares her personal journey and reflects on the successes of others through the integrative treatment approach at SunCloud Health.
Kim Cimino, LMFT and Clinical Director talks about the SunCloud Health advantage in patient care
Lasting change that begins with effective outpatient care.
SunCloud Health is a private outpatient center with three Illinois locations, Naperville, Northbrook, and (Lincoln Park) Chicago. Guided by Kim Dennis, MD, our team provides highly individualized and effective care for adults and adolescents struggling with one or more of these life issues. We bring special expertise to the challenge of helping those with a dual diagnosis or co-occurring disorders.
A message on addiction for families and loved ones from Dr. Kim Dennis.
Addiction is a family disease. The whole family is affected by the disease, different members exhibit different symptoms. Families can be a very important influence when it comes to helping a member(s) struggling with active addiction to recover. Any family member can engage in his or her our recovery process and thereby impact the whole family system.  The disease of addiction impacts relationships. Codependency and addiction is common in families affected by trauma; often times these patterns are intergenerational and therefore hard for the people affected to identify. It's all they know.  When families unknowingly have a system of dysfunction, it is easy to point at the member with addiction involving alcohol, drugs, food or suicidal behaviors as the source of dysfunction. When the negative dynamics of families impacted by disease are changed, recovery from addiction is more likely to occur, and the chances of other family members healing physically, emotionally, and spiritually increases significantly.
Chris Stewart, MD. Board Certified Psychiatrist, answers the question, can family therapy improve my child's outcome?
You can live free of the vicious cycle of your disease.
At SunCloud Health, advanced science comes together with caring, individual attention. We can help you return to yourself with targeted treatment that sees you as a whole person.
You are an individual, not a diagnosis. Understanding your life story is the crucial first step in choosing the therapeutic approaches that will create real progress for you.
Your struggles are not only in your mind. Your physical health, your relationships and your life experiences play a part, too. Healing begins with a program that works with your body, mind and spirit.
You can recover and thrive. At SunCloud you will feel empowered, supported and connected. Recovery happens in community. We are with you every step of the way as you move toward a life of wellness.
Dr. Marcia Nickow, Psy.D., CADC, CGP, talks about finding treatment success after previous failed attempts.
PODCAST, "Addressing the Lack of Continuity of Care in Mental Health Services"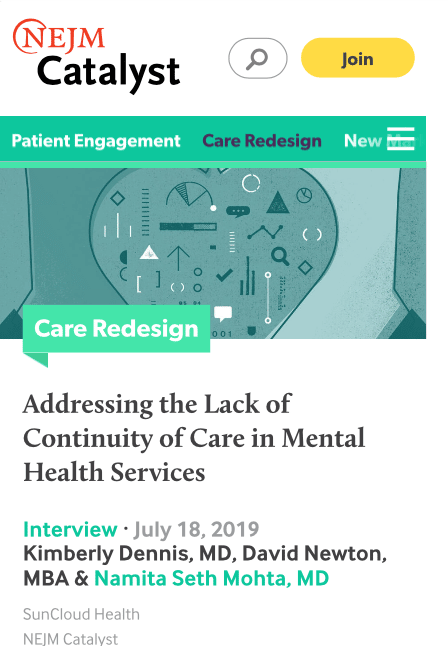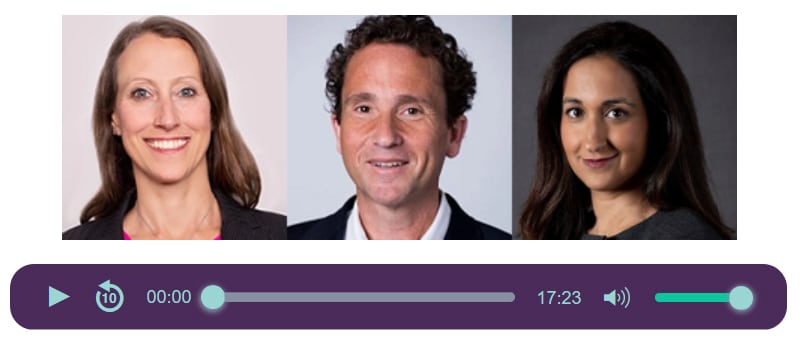 Click Here to listen to the podcast: "Addressing the Lack of Continuity of Care in Mental Health Services", presented by NEJM Catalyst, a sister publication of the New England Journal of Medicine, featuring an Interview with Kim Dennis, MD, David Newton, MBA and Namita Seth Mohta, MD
About NEJM Catalyst: NEJM Catalyst brings health carexecutives, clinical leaders, and clinicians together to share innovative ideas and practical applications for enhancing the value of health care delivery. From a network of top thought leaders, experts, and advisers, their digital publication, quarterly events, and qualified Insights Council provide real-life examples and actionable solutions to help organizations address urgent challenges affecting health care.
We are here for you: A message from Dr. Kim.
If you're feeling hopeless right now, believing that you just can't stop the harmful behaviors that are turning your life upside down, Dr. Kim understands. At SunCloud Health, she has created a team who will provide integrated support for you as you take the first steps toward wellness.
Many providers these days say they treat co-occurring substance use, eating disorders, mood disorders and related trauma. It's a buzz word. At SunCloud Health, we actually do it.
Listen to Dr Kim explain why and how.
Dr. Kim Dennis is a board-certified psychiatrist who specializes in treating addictions, eating disorders and co-occurring disorders. She has helped many remarkable adolescents and adults of all genders with their illnesses. Her knowledge of eating disorders and substance abuse isn't just limited to her academic and clinical experience, having had her own personal experience as a woman in recovery from an eating disorder and alcoholism. Today, she is able to combine her personal journey with her medical training to help SunCloud patients become emotionally strong, responsible problem-solvers, who are inspired to create fulfilling lives for themselves.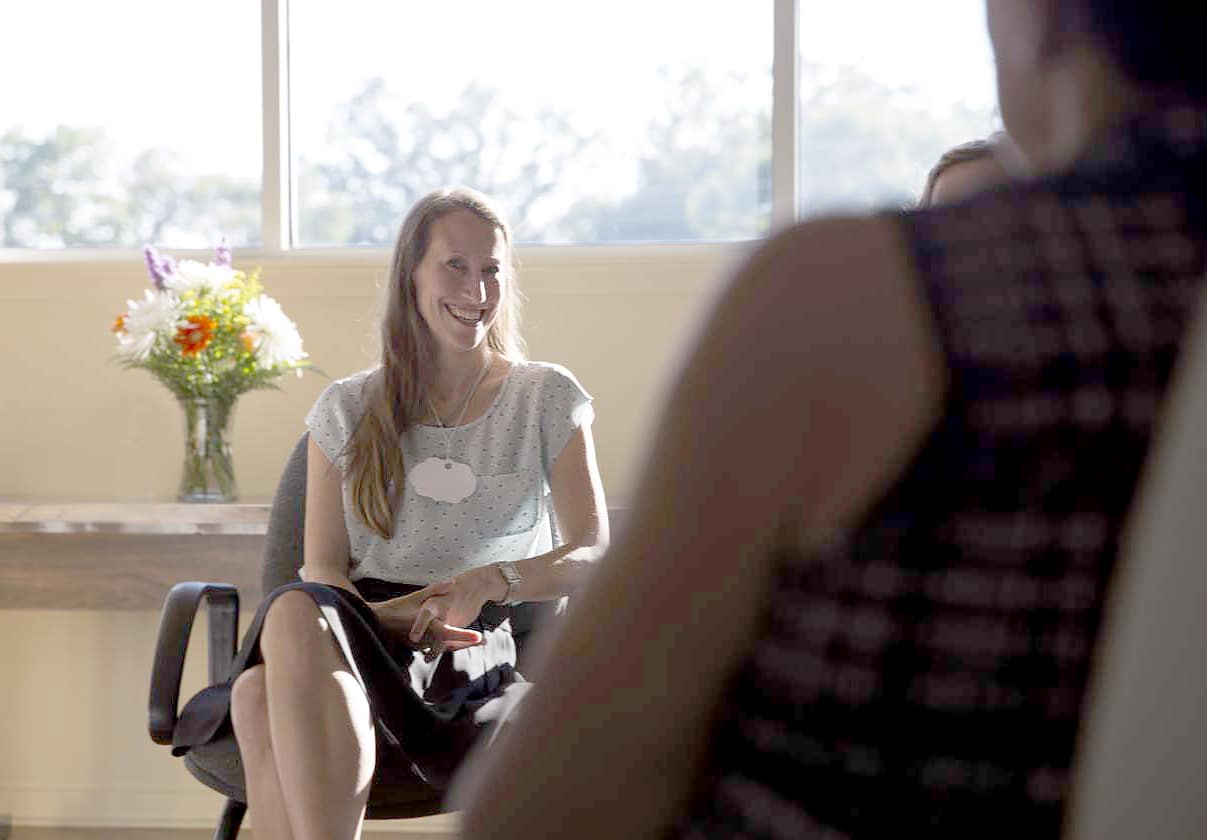 At SunCloud Health, we view unresolved trauma as the foundation of most self-destructive behaviors that people adopt in their lives. Stripping away the self-defense mechanisms we put in place to protect ourselves from the trauma is a core part of the work we do here.
Worried? Not sure what to do next? Get started here.
ASK ABOUT OUR INTENSIVE OUTPATIENT PROGRAM FOR ADOLESCENTS.
Dr. Kim's honesty and her personal knowledge of what I'm going through have helped me so much. I am learning to take the good with the not-so-good … realizing that my recovery is not a straight line and that's OK. It's a lifelong commitment and it's worth it.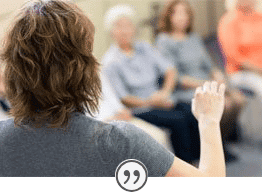 I am in 'this place' again, I am institutionalized again, I am hopeless again, I am wondering what the point is…again. I am sober. By some miracle of God (truly) I meet Kim – the Lodge, Group 2, Process Group. I am instantly hooked. I am baffled. She knows what she's talking about. Not because she read it in a book…no, this woman has LIVED what I have lived.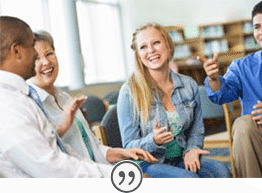 Because I have never really addressed the underlying trauma at the root of my eating disorders and substance use problems, I tend to bounce from food restriction to using drugs to self-injury to withdrawal from my friends and family. Now I know these are all connected. Dr. Kim understands this, because she lives it herself every day.
Emily Long, Clinical Intern, describes the unique culture and "integrative approach" practiced at SunCloud Health.
Helping each other see the miracles in our lives. 
The word recover means "the extraction of something precious from that which was once considered lost." We here at SunCloud are so grateful that we get to witness this miracle of healing daily. We recognize that recovery is not linear and that a Higher Power writes straight with crooked lines. We feel so blessed that as we watch our patients experience the vicissitudes of early recovery, we are fortunate to witness them help each other along the way – because on the day that one patient may not be able to see the miracle in their own lives, maybe they can see it in somebody else's which reminds them that recovery is real and not just wishful thinking. Isn't that what the spirit of this season is all about? Helping each other see the miracles in our lives. Sometimes all a miracle has to mean is a change in perception. As our patients experience what for some is a difficult month or two this holiday season, we'd like to take this moment to extend our gratitude and love. At SunCloud we want to serve as a reminder that if you or somebody you love feels that they are falling below the horizon of where they would like to be, that we are here to help you and them return to the stream of life.
Shale Marks, LCSW CADC, Psychotherapist