For Payors
At SunCloud, we are committed to maximizing the value that we provide for our patients and their families. Using integrated care, standardized outcomes and evidence based care, we can work together to improve quality of care for our patients.
"We believe our patients and their families want more health, not more treatment. We understand that the goal of healthcare is better health at a reasonable cost and we are committed to providing just that."
Value Based Approach
to Behavioral Health
Value-based care is having the courage to break free from business as usual care delivery in a way that improves outcomes for our patients while at the same time reducing cost for our patients and their payers. Following in the footsteps of Cleveland Clinic, Mayo, and MD Andersen and others who are successfully applying a value based approach to both acute and chronic illnesses such as knee and hip replacements, diabetes and even cancer, SunCloud is applying this model in behavioral health.  Professor Michael Porter from Harvard Business School is a leading pioneer in this approach as he seeks to apply basic business principles to the inherently broken healthcare system.  Applying a value based model in behavioral health does not come without some inherent challenges such as how do we define the "episode of care", how do we risk adjust and how do we build a model that takes in to consideration the complex co-occurring diseases that SunCloud treats.   We have answers to some of these questions and are working every day to learn more.  Moving the needle away from fee for service which rewards for volume and toward a value based system which rewards for value is where we are headed, and we NEED the support of major payers to get there.
Michael Porter, Professor of Strategy, Harvard Business School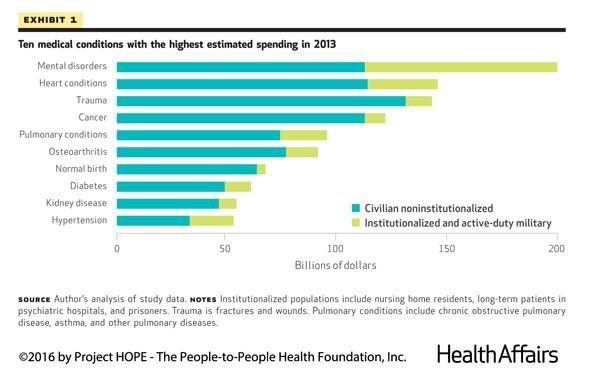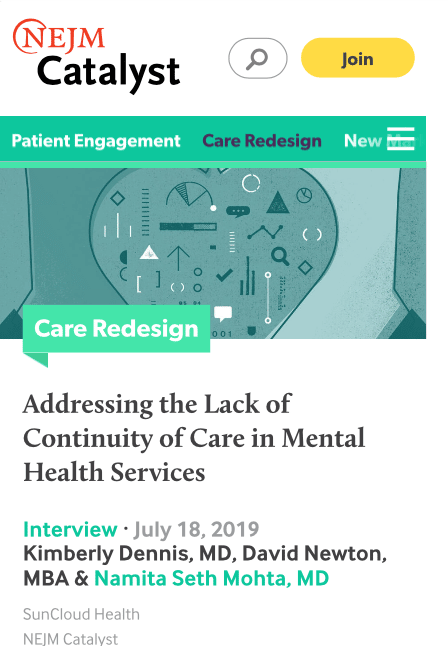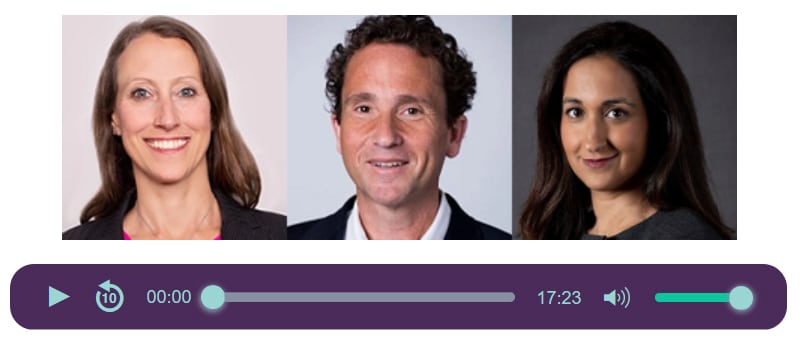 Click Here to listen to the podcast: "Addressing the Lack of Continuity of Care in Mental Health Services", presented by NEJM Catalyst, a sister publication of the New England Journal of Medicine, featuring an Interview with Kim Dennis, MD, David Newton, MBA and Namita Seth Mohta, MD
About NEJM Catalyst: NEJM Catalyst brings health carexecutives, clinical leaders, and clinicians together to share innovative ideas and practical applications for enhancing the value of health care delivery. From a network of top thought leaders, experts, and advisers, their digital publication, quarterly events, and qualified Insights Council provide real-life examples and actionable solutions to help organizations address urgent challenges affecting health care.
OUR GOAL:  IMPROVE OUTCOMES WHILE AT THE SAME TIME REDUCE COST- AND WORKING WITH PAYERS TO DO SO
At SunCloud, we are committed to maximizing the value that we provide for our patients and their families. By this we mean we recognize that the current mode delivers fragmented and often disjointed and wasteful care, which is fueled by the fee for service reimbursement model, is broken and not working for our patients. Relationships between payers and providers in behavioral health is at an all-time low, with both sides having very little trust or faith in the other. This results in a dynamic that adversely effects the quality of care that patients receive. We believe in an integrated, value based approach where value is defined by outcomes that matter to our patients/dollar spent.
Our care model is based entirely around our patients' conditions. We recognize that every patient is different and it is the whole person and their families that we are seeking to treat, and not just their symptoms. Our clinicians operate "at the top of their license," and we use effective accounting techniques such as Activity Based Costing. We pride ourselves on being measured by the value we create for our patients and the manner in which we deliver our care. On behalf of our patients we seek a collaborative and mutually beneficial relationship with all of the people who play a role in the recovery process to include our patients, their families, their primary care doctors and their current (or future) therapists, and third party or other payers. We are pioneers at the forefront of providing a value based care system in behavioral health. We are doing so in collaboration with and inspired by some of the brightest minds in the country, including leaders such as Professor Michael Porter's healthcare team at Harvard Business and Medical School. One of our favorite slogans that we have borrowed from Elizabeth Teisberg is, "We believe our patients and their families want more health and not more treatment."
Key components to our model include principles such as accountability and risk sharing, bundled payments, measuring and being transparent with outcomes that matter to our patients, true collaboration and an alignment of goals, incentives and shared responsibilities between us, our patients and their families, their other doctors involved in the episode of care and in some cases our patients payers.
Payers who are truly interested in the total cost of care for their members/employees and who are committed to their members/patients long term health are potentially great partners of SunCloud. We will comb through your data with you and help you identify how much these diseases are really costing, looking at the substantial medical co-morbidities of the behavioral illnesses. We will help you identify the cost of the co-morbidities associated with these diseases and we will help create a full care plan with you that covers the spectrum from outright prevention through ensuring the proper level and amount of treatment is provided in order to optimize the spend.  We want to share in some of the risk and we want to work collaboratively with you to improve quality of care while at the same time reduce total cost.