Outcomes at SunCloud Health
Data to influence our ongoing clinical care
Google SEO Rankings:  Links + Domains= Authority Index.  The higher one's index, the higher one places in Search.  Quality of care is not a direct part of this equation at all.  This is very troubling.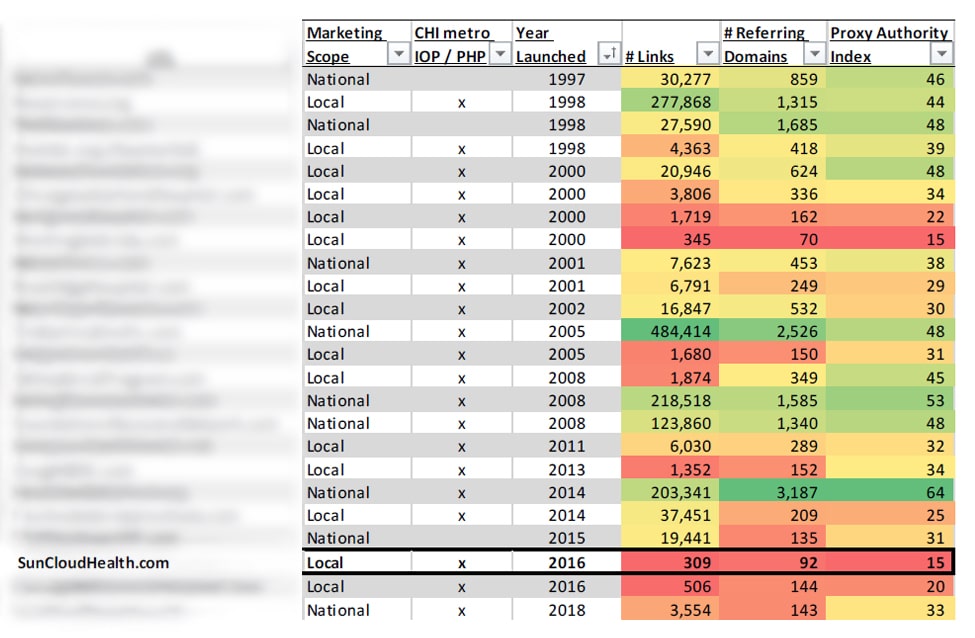 SCH's Google ranking is one of the lowest in our area.  Thank goodness for all of you.  If we relied on the internet for referrals instead of quality of care and reputation, we would not be here today.
Google search rankings do not take quality of care in to consideration, and this is a problem for patients and a challenge for treatment centers like SCH who choose not to dump money in to SEO!
As a treatment center, cracking the Google algorithm code for internet advertising is very costly and time consuming.  To capture the large percentage of prospective (often the most vulnerable) patients who resort to the internet to find help, some treatment centers spend millions of dollars to be seen on "page one", thus increasing their chances significantly of capturing the prospective patient. Ideally, quality of care would be the main driver of ones "ranking".  Unfortunately this is not the case at all. In fact quality does not play any role in SEO.  Rather, Google uses a "proxy authority index" to do its ranking and this index is a function mostly of "# of outside links" and "# of referring domains". Some of these links and domains are rightfully earned by treatment centers. Many, however, can be and are apparently bought, in one form or another.
SunCloud spends next to nothing on google SEO- it shows in our ranking (admittedly this a little embarrassing!) We made this strategic choice when we first started over three years ago, and we stand by it today.  Fortunately we have a high quality and somewhat unique approach (focused on helping those struggling with co-occurring disorders in an integrative non tracked way), we are a local provider and many in our area know about us.  Most of our business comes from trusted referrals.  However, as we grow, we may need the internet more than we have to date and the chart above shows the challenges that lie ahead!  You will see that we have ~300 links whereas another facility in our area has over 450,000!  Our index is 15, "theirs" is 300 x better, 45!  Unless people are looking for us because they know of us or who have been referred to us by someone they know and trust, they will not find us.  Further and even more concerning, even if we are the best possible fit for someone looking for treatment on the internet, they will not find us.  Never; not unless we choose to dump hundreds of thousands of dollars in to this area of marketing, which we have successfully avoided to date.
The fact that we have grown as we have is almost entirely a result of trusted professionals and former patients who recognize and value the quality of care that we are providing. For this we are eternally grateful and we hope we continue to earn your trust. 
The fact that many people looking for help are being guided to facilities because of their rankings (and NOT quality!) is scary, it is unfair and something needs to change.  Standardized outcomes, we believe, will change this.  Once our patients have standardized transparent tools to use to compare and contrast, which cannot be bought, patients will have access to trustworthy data they can use to make informed decisions on where to go and why.  Further, once these exist Google will hopefully either be forced to incorporate quality in to their ranking algorithm or another search firm will emerge to address and solve the problem.
Kim Cimino, LMFT and Clinical Director on the transparency of outcomes
SunCloud Health's Measured Outcomes
Though the field we are in has yet to identify a standardized set of outcome measurements we can all use to measure and identify "success", this has not stopped SCH from measuring and using outcomes that we feel matter to our patients.  One of the several tools we use is the OQ-45.2.  This patient reported survey measures adult patient progress in therapy, and is designed to be repeatedly measured during the course of treatment and at termination.  Patient progress is measured along several important dimensions, based on Lambert's (1983) conceptualization, suggesting that three aspects of the patient's life be monitored:
1) Subjective discomfort (intrapsychic functioning),
2) Interpersonal relationships and
3) Social role performance. 
The OQ maintains high levels of reliability and validity, and SCH has collected thousands of these surveys since we started.  Though it is far too early to publish the results of the completed study we are doing, we are pleased to report the following with the hope that if nothing else we show our ongoing commitment to the movement away from pure fee for service and toward some form of value based model where outcomes and cost drive behavior.  (SIDE NOTE: If anyone reading this also treats co-occurring substance use, eating disorders, mood disorders and trauma and also uses this measurement, PLEASE LET US KNOW.  We would love to share and compare results.)
—The primary metric evaluated is improvement per day as measured in average daily drop in OQ-45.2 scores between admission and discharge.  Current patients were omitted and sub-scales were not analyzed.  Results are all statistically significant using p<.01.
1. The mean OQ 45 improvement per day is statistically significant and equal to 0.444 points/day or 3.11/week.  (n=106, p<.001)
2.  Patients with higher (worse) scores on intake improve faster.
Intake Score
Mean OQ drop per week

70

90

110

1.67

3.06

4.45
3. Predicted weekly improvement rates for a particular patient vary widely.  As we add more independent variables to the study, we hope to be able to explain this.
4. Patient age does not have any significant relationship with improvement.
5. Controlling for intake score, the longer a patient is in treatment, the worse the improvement rate. 
The average time in treatment for patients who have been discharged with two or more tests is about 66 days.  The expected rate of improvement after 66 days is still, however, positive and statistically significant.
| | | |
| --- | --- | --- |
| Intake Score  | Initial OQ drop per week | OQ 45 drop per week after 66 days |
| 70 | 3.19 | 1.72 |
| 90 | 4.54 | 3.06 |
| 110 | 5.88 | 4.41 |
This report was produced with the much needed help of Brett A. Saranati, Ph.D.  Brett is currently a Visiting Professor at Kellogg School of Management at Northwestern University and a Lecturer at Stanford University.  Brett's primary fields of specialization include business statistics, game theory, managerial economics and competitive strategy.
SCH is thrilled to announce that it has agreed in principle to enter in to its first "value based" contract with a major payer.
This agreement, with one of the country's largest private insurance companies, holds us accountable for providing certain tasks which we know improve outcomes (aka results) for our patients and their families. It rewards us when our patients do better and in some ways penalizes us when they do not.  It requires us to be far more transparent with what we do (and don't do!), which we embrace passionately and enthusiastically. 
Though the program lacks certain characteristics of an ideal "value based program" such as true bundled payments (which forces bundled/coordinated care designed around our patients conditions) and appropriate risk adjustments, it is indeed a step in the right direction! David Newton, Director of Operations for SCH, says of the program, "We are so grateful for this opportunity to be a part of the future of all healthcare, which is finally embracing behavioral health.
Increasing value for our patients by improving outcomes that matter to our patients while at the same time reducing cost is built in to our DNA.  When our patients do well, we should do well.  And when they don't do as well, when appropriate we should be held accountable for our provision of care.
This is how the rest of the world operates…Why should healthcare be so different?  It shouldn't be.  We are thrilled to be a part of this journey and we look forward to sharing more as we implement the program".
Dr. Lauren Pace, DO and Psychiatrist on the benefits transparency
Collecting Outcomes
We here at SunCloud Health are thrilled to announce that after two years of hard and persistent work, we are very close to being in a position to release the first results of our patient reported outcome measurements! 
Built in to our DNA is appreciating the immense value this data provides to us, our patients, their families and our payers- and then figuring out what to do with it. 
Seeking to be a pioneer in value based delivery of behavioral healthcare we are inspired by internationally respected healthcare thought leaders such as Michael E Porter, Thomas H Lee, MD and Leemore Dafny.
We aspire to be like hospital systems such as The Cleveland Clinic and Germany's Schon Clinic who have already proven that a focus on value over volume is not only good for patients but it is good for business.
Currently we using the data we are collecting to influence our ongoing clinical care, providing our clinical team with patient reported information on outcomes that matter to our patients.
Our outcomes are incorporated in real time into the process of care, allowing us to track progress and make clinically appropriate changes as we interact with our patients.  We can see where and when patients report they are improving (or not) and compare that to clinical observations.  We are able to use this data when justifying level of care recommendations both to our patients and their payers.  We use the data to see where our patients feel we can improve, and where they feel we may be excelling.  We can drill down in to an individual patient's results and we can see average trend lines among all of our patients.  We collect data on admit, weekly during treatment, at discharge and then post discharge.
Admittedly post discharge collection remains our biggest challenge, and this will likely always remain the case.  Not yet are we able to compare ourselves to other providers in our field, but we are one of the few who hope this is coming- and for our patients sake, the sooner the better.
We look forward to sharing our process and our results in an honest, transparent and meaningful way in the very near future.
We hope this will be an inspiration to all providers as we all seek a common goal of improving quality and reducing cost.
Although the process of collecting, using and sharing data like this can be time consuming and might appear at first to be scary, in the end doing so is ultimately in the best interest of our patients- and that is really what matters most.
Read more from David Newton, SunCloud Health's Director of Operations, on today's issues in behavioral health,  about the need for accountability, transparency and outcomes in behavioral health.