SunCloud Health was proud to be a sponsor at the 41st Annual NIEAPA Conference in Oak Brook, IL. 
Melissa Hill, LCSW, Director of Outreach & Organizational Well-Being at SunCloud said, "The Conference was an excellent opportunity for me to connect with the EAP community and raise awareness on the impact of substance use and mental health in the workplace. Despite the availability and visibility of so many treatment centers, regrettably there remains a stigma attached to seeking help."
The impact of mental health on a company's bottom line has been widely publicized yet continues to go unaddressed. It's the elephant in the board room no one wants to talk about. According to Forbes, mental health and substance abuse cost businesses between $80 and $100 billion a year in the U.S. alone. Another study showed that serious mental illness costs America up to $193.2 billion in lost earnings per year, while depression is thought to count for up to 400 million lost work days annually.
SunCloud believes putting mental health issues at the top of a company's priority list is vital. Why? "Because it is not only good for employees, it's good for business," said David Newton, MBA, Director of Operations and Outcomes Measurement. "By some measurements, total savings of effective mental health and addiction treatment can exceed costs by a ratio of 12 to 1! We collect a lot of outcome data here at SunCloud Health. We want to know what we are doing well and what we are not doing as well so we can improve where we can and exit where we are not useful. We use the data as an integral part of this continuous improvement process", said Newton.
In the coming months, SunCloud will be meeting with EAPs and heads of local Chicago companies to share their outcomes data with the hopes of playing an integral role in improving what Newton sees as a desperately needed and incredibly broken system of mental health and addiction delivery services. "Much of this for me is focused on moving the needle away from the Wild Wild West where nobody really knows who does what or how well they do it, and where providers get paid based solely on quantity of services, to a more transparent system where providers get paid based on the value they are providing their patients, and where value is a function of outcomes that matter to patients per dollar spent.  In the current fee for service environment interests between patient, payer and provider are not aligned and patients are suffering as a result. Once we focus on and share the actual value many of us are currently creating for our patients, interests will align, and we will all benefit!"
Read More about SunCloud Health's Patient Satisfaction Survey and outcomes initiative.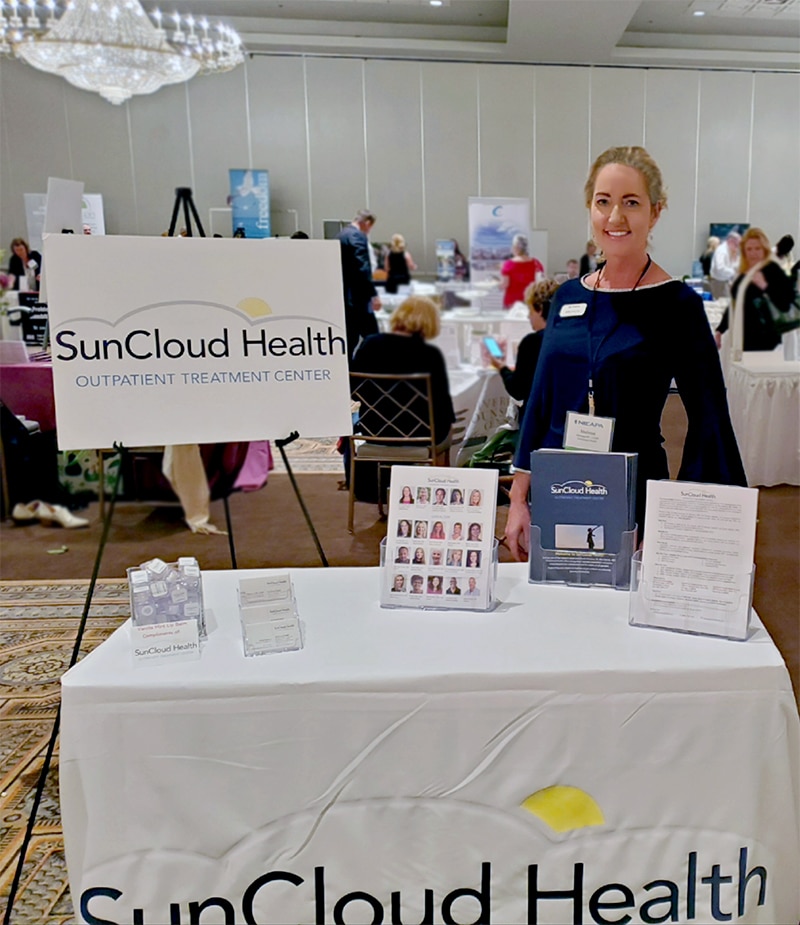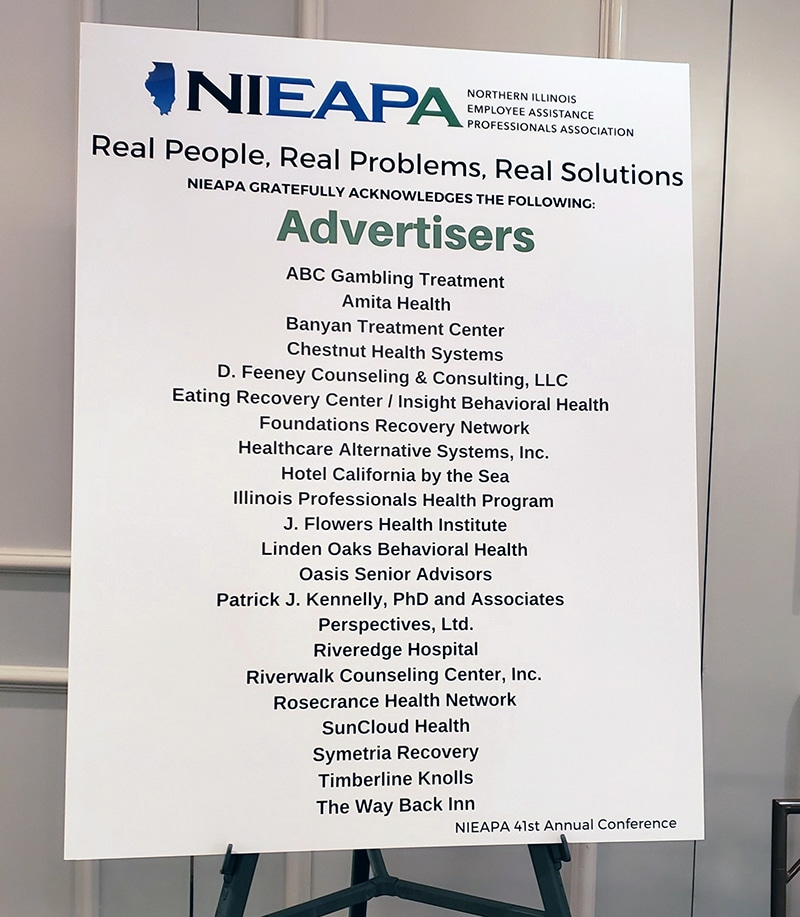 SunCloud Health attended the Heartland Chapter's iaedp Special Event in Schaumburg, IL.
We support those like-minded individuals who believe that eating disorders are brain-based and we are committed to sharing our research on outcomes of treatment designed to target the neurobiology underlying self destructive behaviors in our patients with eating disorders, addiction and other co-occurring illnesses.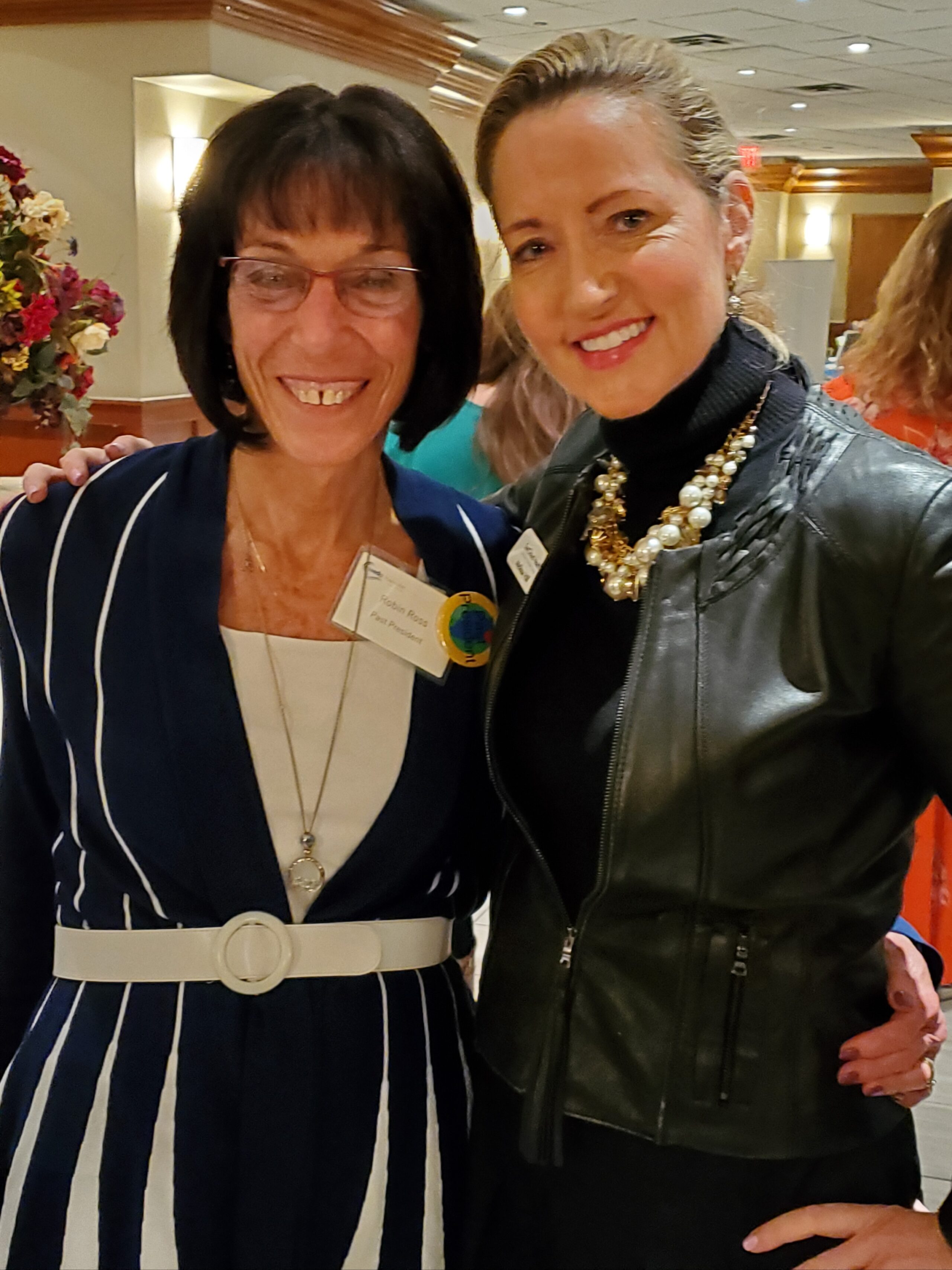 Robin S. Ross, PhD (left) with SunCloud Health's Melissa Hill (right)
Robin S. Ross, PhD, Licensed Clinical Psychologist
Former President, Heartland iaedp chapter
Founder, Chicago Area Eating Disorders Network
Co-Founder Case Consultation Group OCD Midwest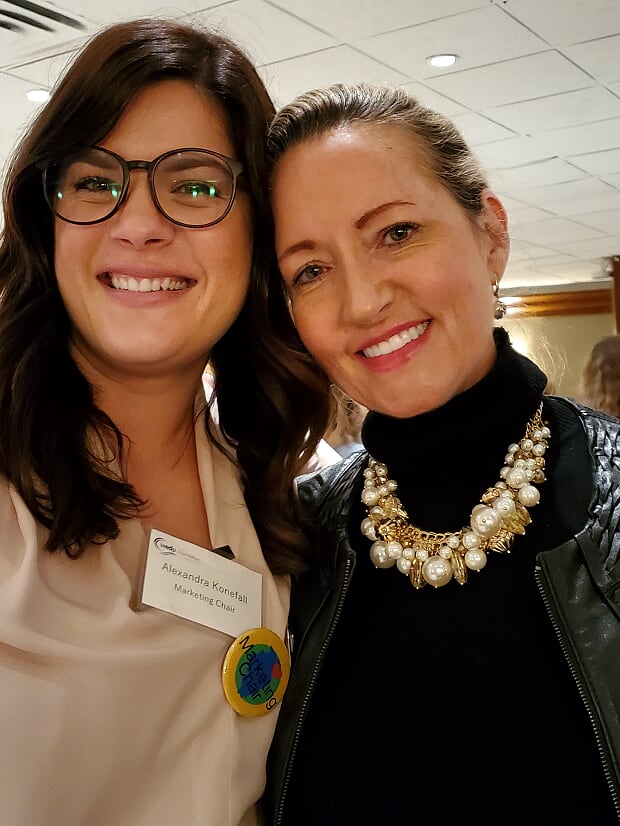 Alexandra Konefall (left)
Director of Regional Outreach, Midwest
Alsana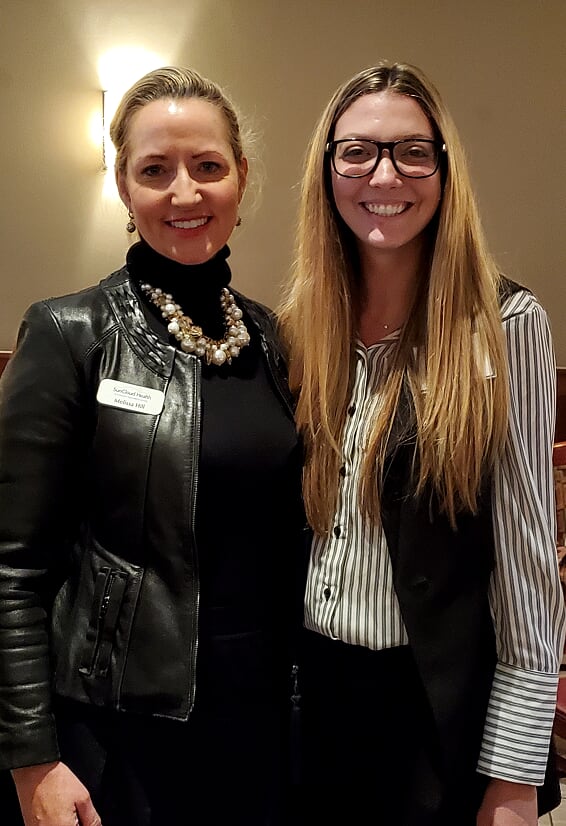 Chloe Neske, MHA (right)
Professional Relations Liaison
Aloria Health Residential Care Center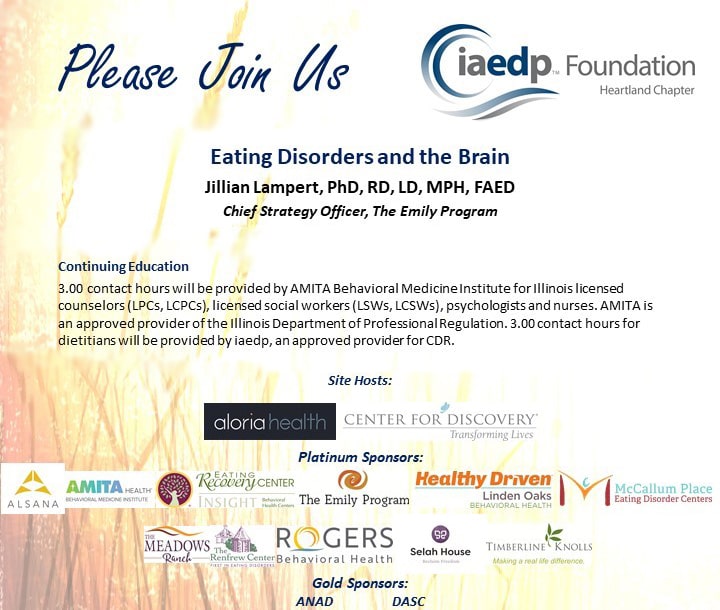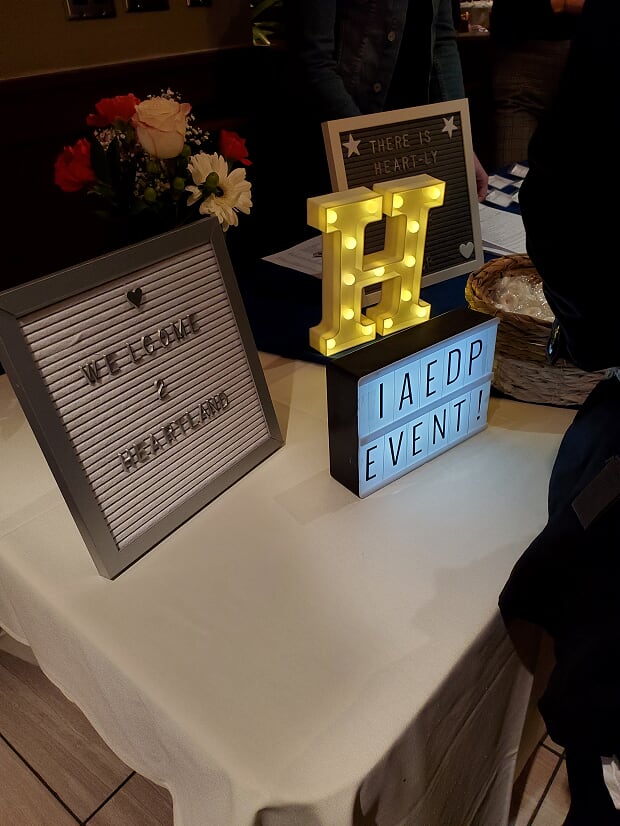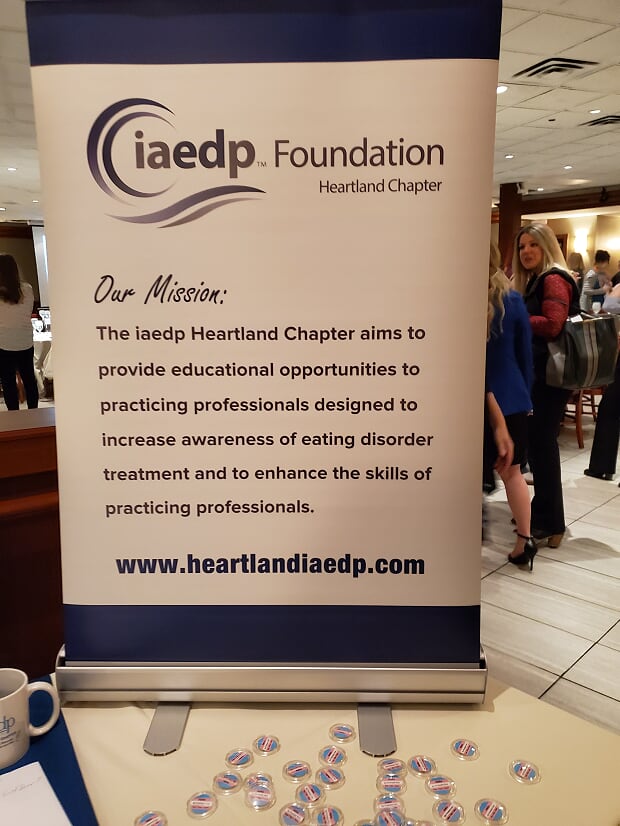 SunCloud Health and McLean Hospital co-hosted an intimate dinner event on March 29, downtown Chicago. 
In attendance were leading experts in the treatment of eating disorders.
The prestigious group included; Dawn Leprich-Graves, Clarity Counseling & Wellness (Lincoln Park), Dr. Danielle Doucette, Midwest Counseling (River North), Dr. Kim Dennis, SunCloud Health, Dr. Lauren Pace, SunCloud Health, Dr. Robyn Welk-Richards, Aloria, Dr. Shawhana Kim, McLean, Gail Canning, Private Practice, Ina Beller, Private Practice, Jan Pryce, Pryce Consultants & Timberline Knolls, Lauren Kofod, ERC Insight, Loreta Stavskiene, Private Practice, Lori Kehoe, Rosecrance, Marcia Nickow, SunCloud Health, Maria Rago, Rago & Associates, Mary Ann Daly Private Practice (Chicago Loop), Melissa Hill, SunCloud Health, Natalie Pacini, AMITA, Pamela Thompson, McLean, Rita Ekelman, Private Practice.
Below are photos from the event.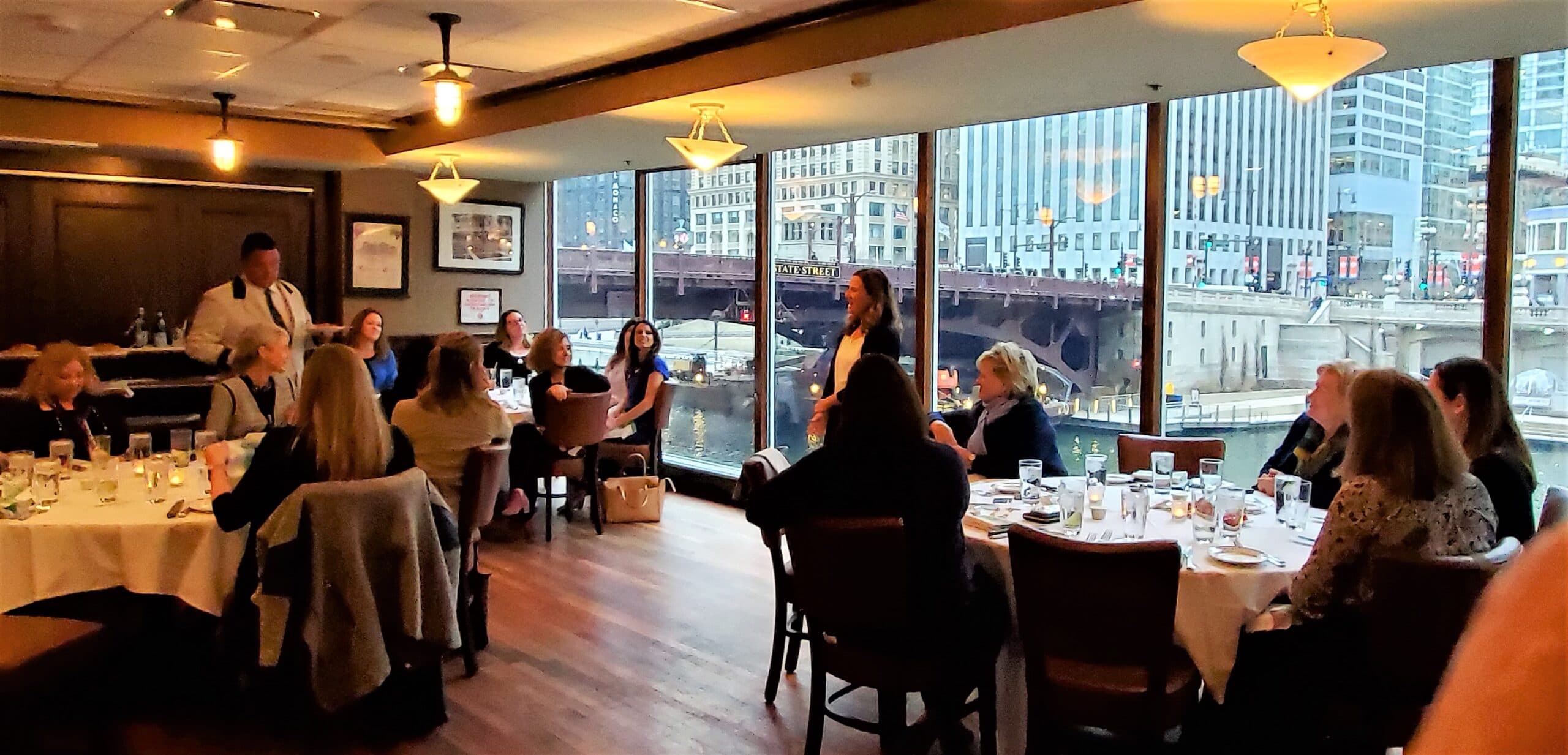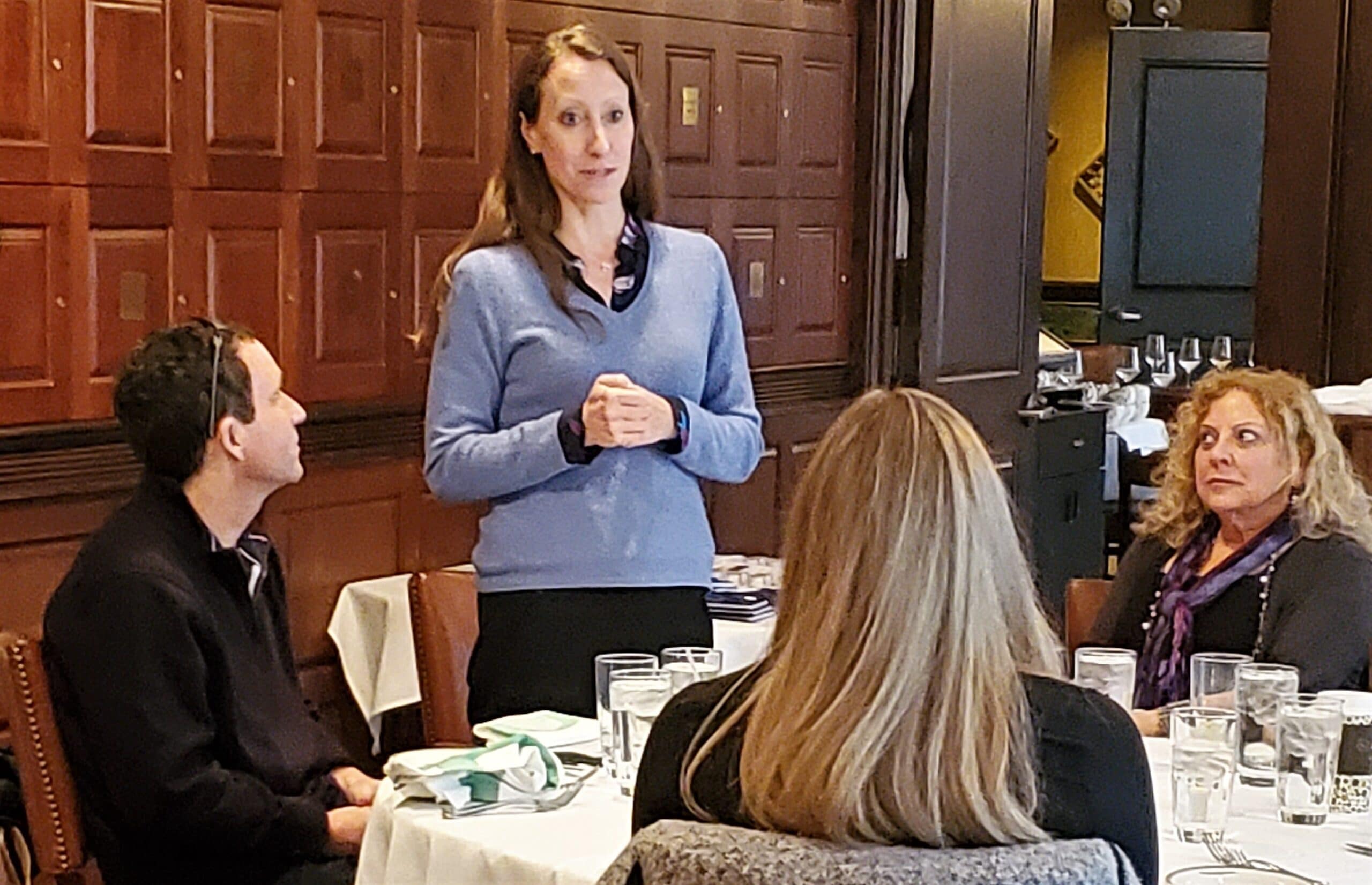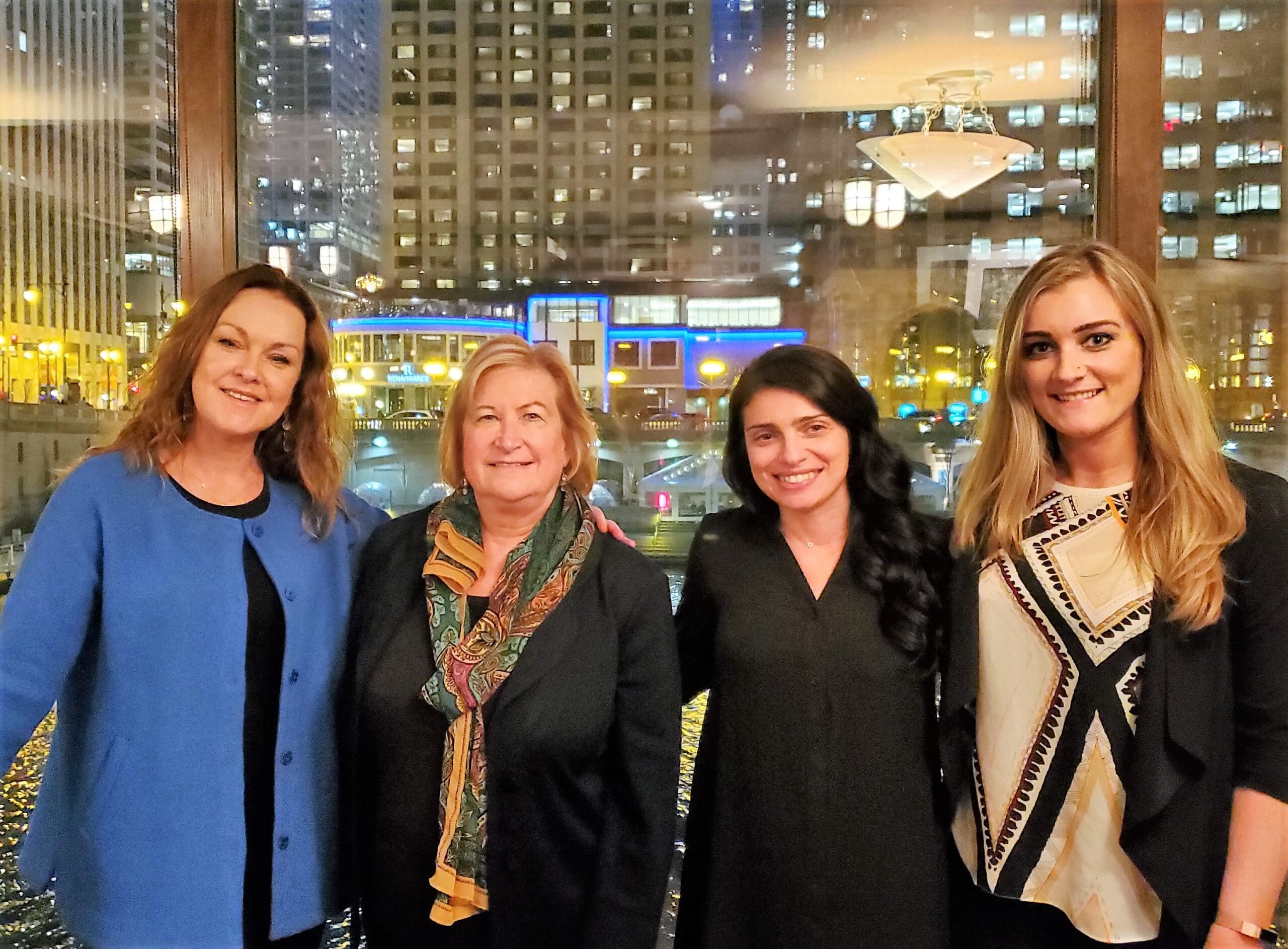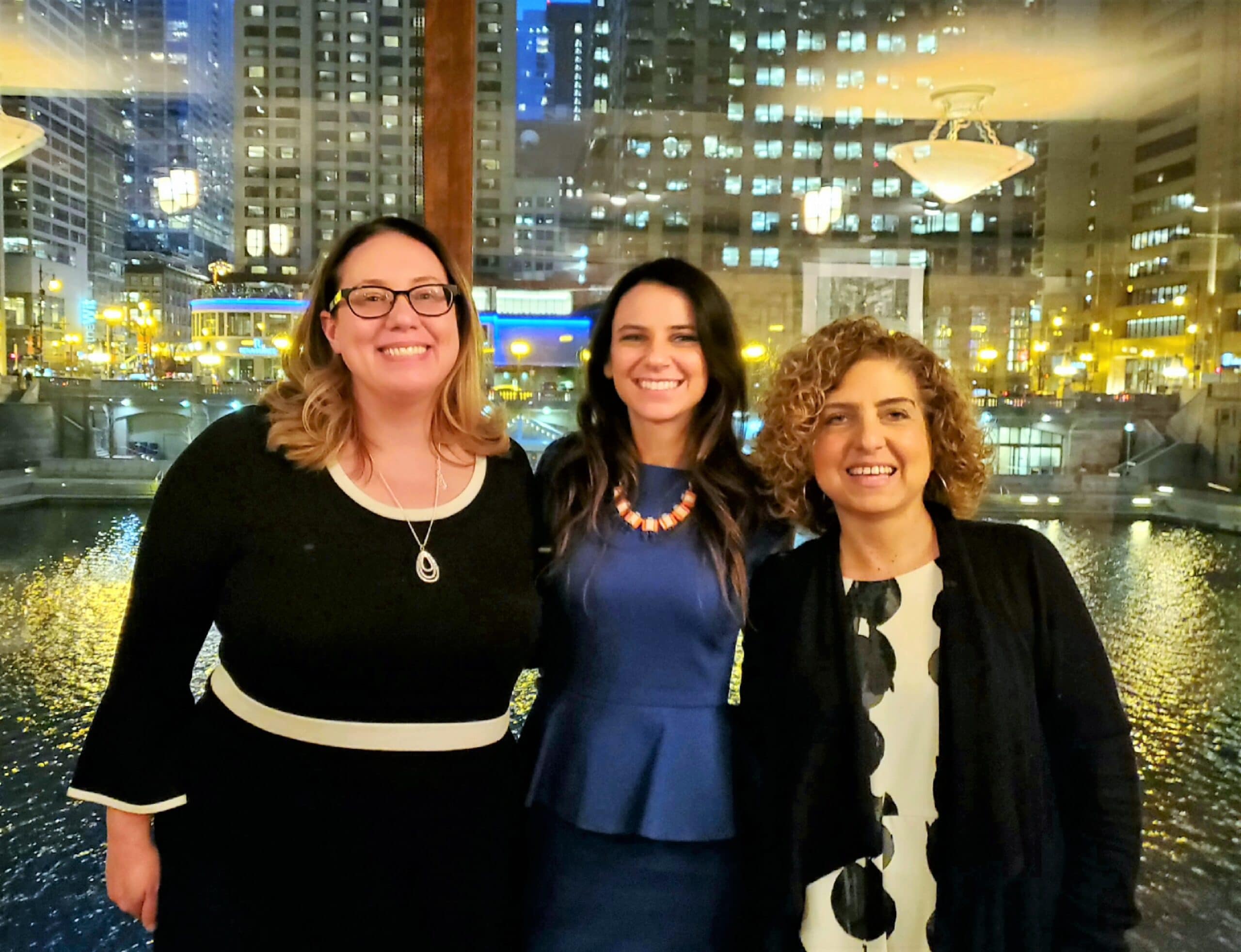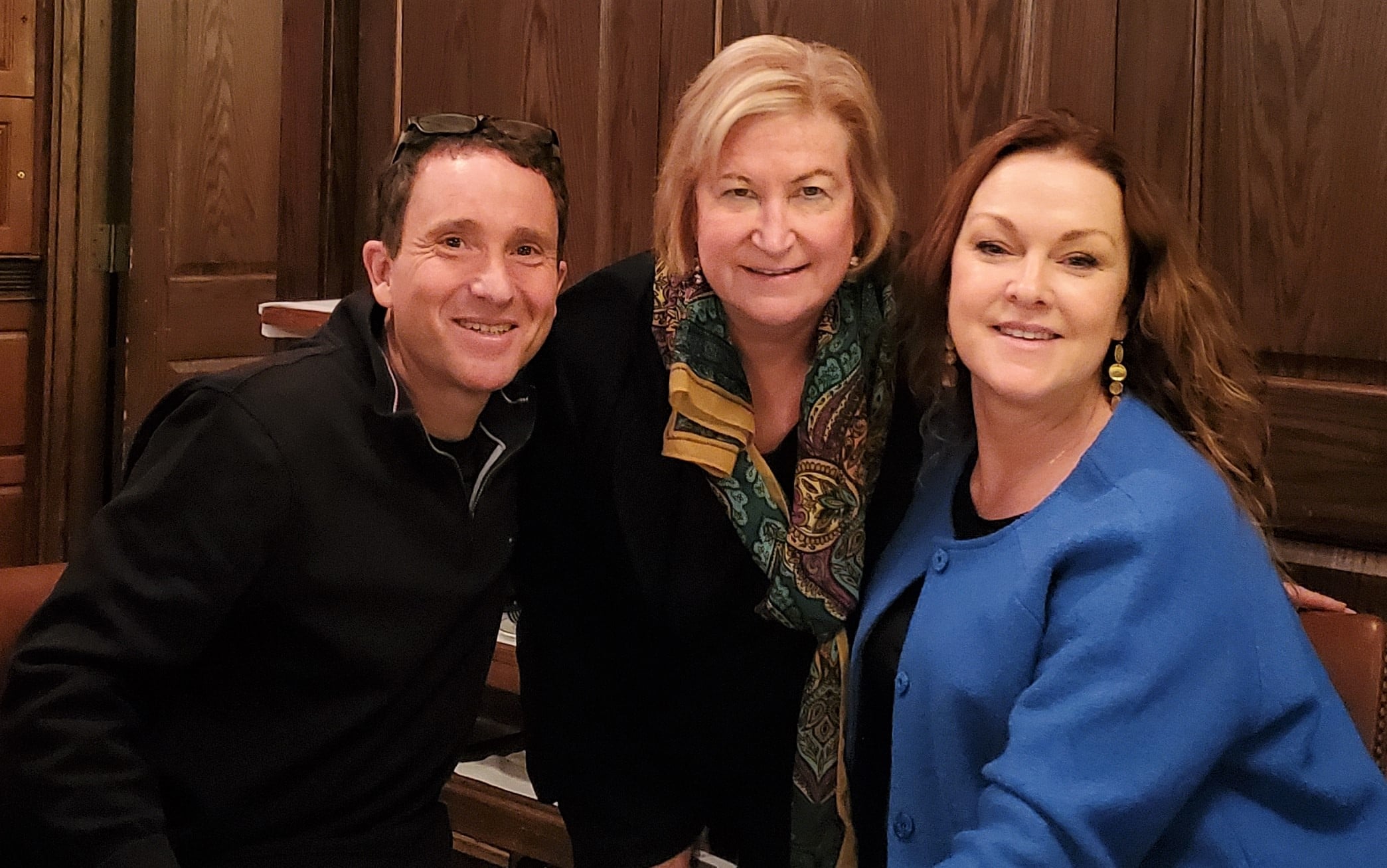 Join us for a special event with our co-founder, CEO and Medical Director.
You asked for more of Dr. Kim Dennis, and we listened!
On Thursday, April 18, Dr. Kim will describe our unique treatment model for helping those with co-occurring disorders.
You don't want to miss it!
SunCloud Health recently exhibited at the 12th Annual Freud Meets Buddha Conference in Chicago, March, 2019.
This unique conference explores the intersection of traditional psychotherapeutic techniques with Eastern concepts such as mindfulness to provide patients with an evidence-based, holistic approach to addressing their mental health needs.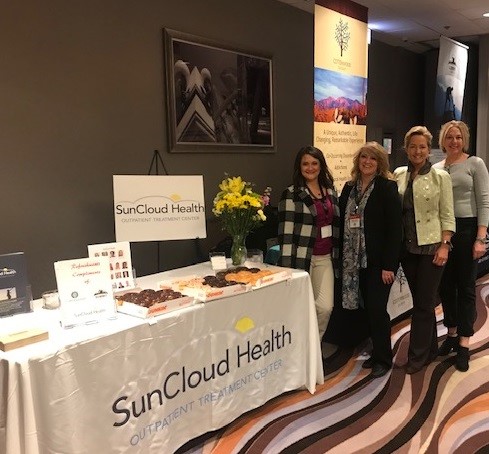 Photo (left to right): Christi Cessna. Dawn LaCarte, Clinical Outreach Liaison, Cottonwood Tucson. Melissa Hill, LCSW, ACHT, Director of Business Development & Organizational Wellbeing, SunCloud Health. Amy Smith, National Clinical Outreach, Summit BHC.
Photo (left to right): Tom Maisel, RN, MBA Behavioral Healthcare Consultant, Skyland Trail. Melissa Hill, LCSW, ACHT, Director of Business Development & Organizational Wellbeing, SunCloud Health.
SunCloud Health's team members Melissa Hill, LCSW, ACHT, Krista DeCeault, MS, RDN, and Gail Alexander, MS, LPC, presented to Gateway Foundation Chicago Independence–one of the nation's leading providers of addiction treatment–on the signs and symptoms of eating disorders.
Up to 50% of individuals with eating disorders also abuse alcohol and/or drugs, while nearly 35% of individuals with substance use disorder also have some form of disordered eating, a rate 11 times greater than the general population.
Despite the prevalence, eating disorders often go undiagnosed and have the highest mortality rate of any psychiatric diagnosis. Moreover, 1 in 10 individuals receive treatment.
At SunCloud Health, we are committed to educating our fellow partners in the substance abuse world on how to assess their patients for the presence of an eating disorder.
For more information or to have SunCloud present at your organization, please call us at (866) 729-1012.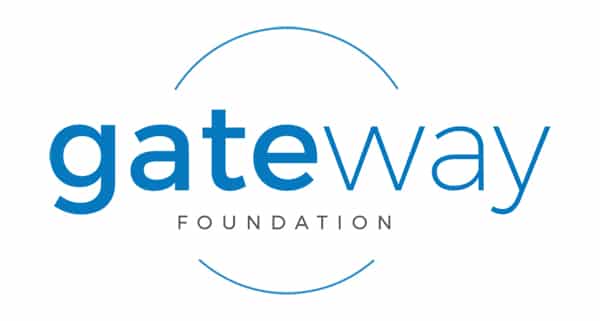 Many providers these days say they treat co-occurring substance use, eating disorders, mood disorders and related trauma. It's a buzz word. At SunCloud Health, we actually do it.
Listen to Dr Kim explain why and how.
In November Dr. Kim presented at Positive Sobriety's Monthly Lunch and Learn Series where she presented on one of her favorite topics, "What's Addiction Got to Do with It? Understanding Eating Disorders within the Addiction Spectrum".
This presentation explores the common traits between those who struggle with substance addiction and those who struggle with eating disorders. We know from the literature that up to 50% of people who struggle with eating disorders also abuse alcohol and or drugs, and up to 35% of people with some form of substance addiction also have some form of eating disorder.  Dr. Dennis explores shared risk factors, the similar aberration in brain reward pathways and brain reward circuitry and treatment approaches that can be used to effectively treat those struggling with both eating disorders and substance addiction.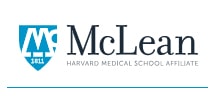 SCH plans to co-host an event with internationally renowned McLean Hospital at the 2019 Anxiety and Depression Conference. 
This will be an opportunity for the Chicago area to learn more about McLean's unique services related to co-occurring substance use, eating disorders and mood disorders. This first event will be by invitation only and relatively small. Stay tuned for more information.

The post screening panel of All of Me. 
"I was delighted to participate with such a distinguished panel. Films like All of Me are an important part of the solution–showing the illness for what it is, decreasing the shame that keeps people from seeking expert help, and ultimately saving lives." Dr. Kim Dennis.
Order of appearance in photo:
Rachel Natvig, PhD; Film's Featured ED Survivor
Dr. Kim Dennis, MD, CEDS; CEO & Medical Director, SunCloud Health
Kelley Kitley, LCSW; Women's Mental Health Expert and Author
Melissa O'Neill, LCSW; Director of Clinical Operations, Timberline Knolls
Bess O'Brien; Film's Director
Tiffany Tiberi, PsyD; Clinical Coordinator, Loyola University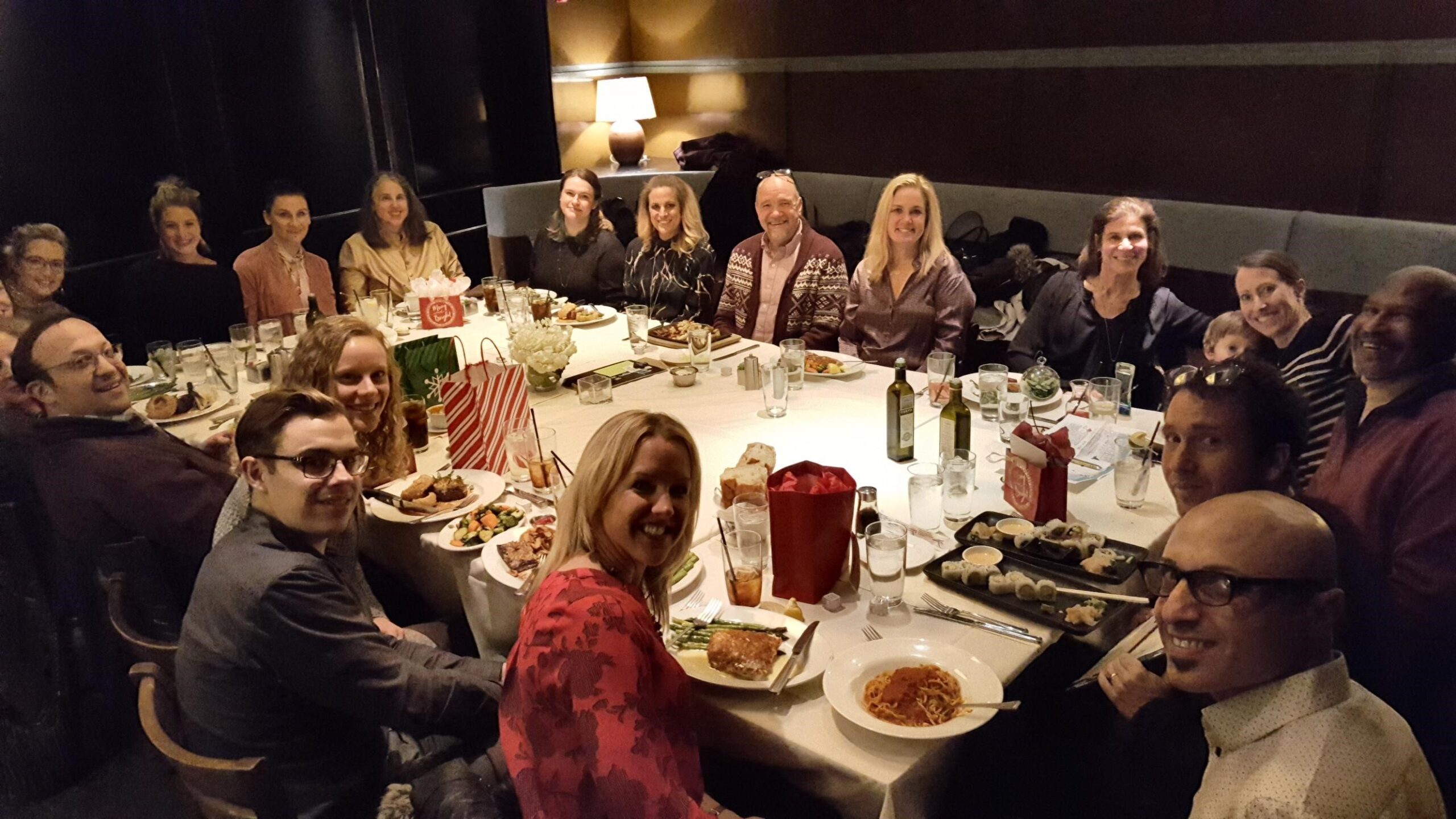 Counting our many blessings at our annual holiday party,  among them are our incredible patients and this extraordinary team.  Happy Holidays from everyone at SunCloud Health!
SunCloud Health is proud to announce the addition of three incredible therapists.
The screening of "All of Me' was a great success, SunCloud Health was honored to be in attendance.
Dr. Kim discussed the challenges of ED and the compounding emotional factors that present challenges in diagnosis and treatment, in a post screening panel discussion.
More on the film and where to watch it.
The documentary, directed by Vermont filmmaker Bess O'Brien, focuses on the lives of women, girls and boys who are caught in the downward spiral of eating disorders and their struggle to regain a sense of self-compassion and healing. The film also centers on the parents coping with their children around this devastating disease. The movie gives hope to those suffering from eating disorders and illustrates how people can recover and reclaim their bodies, their emotional connection with themselves and others.
In addition, All of Me talks about the underlying emotional issues that eating disorders stem from including depression, anxiety, trauma, sensitivity, control, perfectionism, and other mental health concerns.
"I was delighted to participate on such a distinguished panel," said Kim Dennis, MD, CEDS, co-founder and medical director at SunCloud Health. "Eating disorders are some of the most common illnesses that lead to devastating morbidity, and even mortality, for people with the disease and their families, and yet, are infrequently addressed head on and most often misunderstood by professionals and lay people alike. Films like All of Me are an important part of the solution–showing the illness for what it is, decreasing the shame that keeps people from seeking expert help, and ultimately saving lives."
To watch a trailer of the film go to: https://kingdomcounty.org/shop/all-of-me-dvdwww.kingdomcounty.org
PLEASE JOIN US AT THE FOLLOWING EVENTS:
We are grateful to be partnering and collaborating with people such as Jerry Moe from Betty Ford Center and esteemed organizations such as Timberline Knolls and Positive Sobriety Institute.  Good medical care requires solid alignment between payer, patient and provider.  It also requires teamwork and collaboration between providers.  When we come together to create an integrated and comprehensive care team around our patient's needs and conditions, we achieve the best possible long term outcomes for our patients and their families.
Join Dr. Kim and David Newton, MBA as they sit on a panel lead by Jerry Moe, National Director of the Children's Center at Betty Ford Center to discuss the incredibly important topic of "The Effects of Substance Abuse and Domestic Violence on Children of Addicted Parents".  Children of addicted parents face a unique set of hardships which can start even before they are born and often last their whole lives. In addition to having a higher risk of developing drug and alcohol addiction themselves, the child's normal development is interrupted. This puts children of addicted parents at higher risk for physical, emotional, and mental health problems.  Please join us as we work to educate legal and healthcare professionals on how best to support these children.
Friday October 19, 2018 at DePaul University.  Click here for the invitation.
Join us as SunCloud Health and Timberline Knolls present A Special Screening of "All of Me", a documentary film about eating disorders.  All of Me is a feature length documentary film focused on the lives of people who are caught in the downward spiral of eating disorders and their struggle to regain a sense of self-compassion and healing. Eating Disorders, which include Bulimia, Anorexia, Restricted Eating, and Binge Eating, are one of the most hidden forms of addiction and disease in our society. The film focuses on body image, a lack of connection with one's physical and emotional being, and the need to delve deep within one's self to find the systemic reasons that triggered the disease.  Click here for more information on this fantastic film and look out for a formal invitation from us in the next few days.  Tuesday November 13, 2018 from 5:30-8:30 pm at Loyola University Lake Shotre Campus.  SAVE THE DATE
Join Dr. Kim as she speaks at Positive Sobriety's Lunch and Learn Series on a topic near and dear to her heart titled, "What's Addiction Got To Do With It?  Understanding Eating Disorders Within the Addiction Spectrum".  The presentation will explore the common traits between those who struggle with substance addiction and those who struggle with eating disorders. Up to 50% of people who struggle with chemical dependency with alcohol and drugs and up to 35% of people with substance addiction have some form of eating disorder. Dr. Dennis will explore shared risk factors, the similar aberration in brain reward pathways and brain reward circuitry and treatment approaches that can be used to effectively treat those struggling with both eating disorders and substance addiction.  Please click here for the invite.
Thursday November 29, 2018.  12:00 pm at Positive Sobriety Institute, Chicago.
SunCloud Health is proud to announce we are now accepting most forms of TRICARE insurance.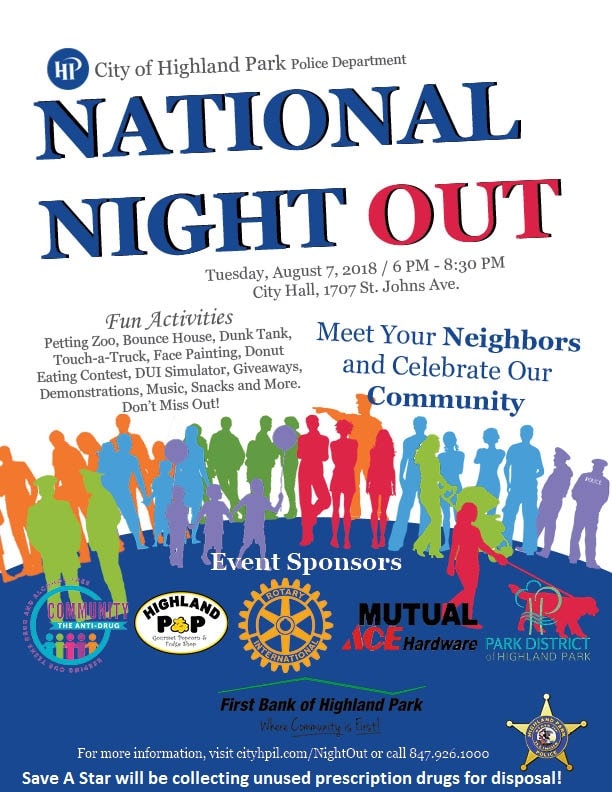 SunCloud Health cares deeply about the people in the communities that we serve.
if you are in Highland Park or any of the surrounding communities join us for the National Night Out on Tuesday, Aug. 7 from 6-8:30 PM.
Stop by our booth! It's an opportunity to meet our staff and ask us your confidential questions about behavioral health, addiction and recovery.
National Night Out
Highland Park City Hall (front lawn)
1707 St. Johns Ave in Highland Park.
Tuesday, Aug. 7 from 6-8:30 PM
We applaud Highland Park for bringing us all together!
Read More: http://cms6.revize.com/revize/highlandparkil/resident/city_sponsored_events/national_night_out.php
On June 22 friends and colleagues joined the Suncloud Health team to celebrate the opening of our second treatment center!  
This new space is located in Lincoln Park at 1840 N. Clybourn Avenue, just north of North Avenue in the Trader Joe's Building. At this facility we are currently providing an evening IOP for adults of all genders, two afternoon adolescent outpatient groups and individual therapy. By fall we plan to be running a daytime PHP and more programs for adolescents.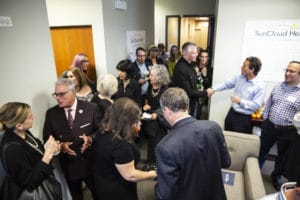 Thanks to all who joined us at this event and all who have joined us in our amazing journey thus far. We would not be where we are without the support of the amazing community of treatment providers who have supported us as we started with nothing but a dream and an amazing Dr Kim, and for this we will be forever grateful. Let's all hope for many more challenging and rewarding years for all of us!
---
ANNOUNCING THE OPENING OF OUR LINCOLN PARK OFFICE.
JOIN US AT OUR OPEN HOUSE
SunCloud Health is pleased to announce we have opened a new location at 1840 N. Clybourn, Suite 500.  Please join us for our open house on Friday June 22 from 4:30-7:30 pm where we welcome all who might be interested in learning more about who we are and what we do.
At SunCloud we ask our patients not just, "Why the behaviors?", but also, "Why the pain?"  We know the brain is inseparable from the body and the individual is inseparable from their environment.  We know recovery is anything but easy, yet we know it is possible.  Utilizing evidence based modalities such as 12 step, expressive therapies, DBT, process groups and psycho educational groups, we offer our patients the opportunities and the tools they both need and deserve as they work toward long term sustainable recovery.
Mark your calendar and join us!
---
Announcing Our New SunCloud Speaker Series called, "The Sky Is the Limit." 
In this series, SunCloud will be highlighting innovative speakers who promote wellness, inspire others through their stories, and remain true to their core values.  Past and present patients, family members and select professionals are invited to attend.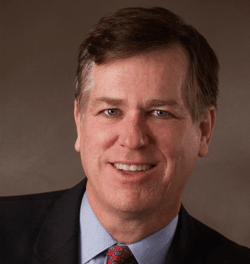 Please Join us on March 9th at 5:00pm as we kick-off the series with our inaugural topic, "Where Recovery Meets Leadership," by the esteemed Mr. Harry Kraemer, former CEO and Chairman of Baxter International, Professor of Leadership and Ethics at the Kellogg School of Management and author of two best-selling leadership books: "From Values to Action: The Four Principles of Values-Based Leadership" and "Becoming The Best: Build a World-Class Organization Through Values-Based Leadership." Harry serves on multiple national and international boards in the healthcare industry. 
Mr. Kraemer's story is one filled with lessons we feel can be useful to our patients and the behavioral health community at large.  His teachings are rooted in four essential principles of leadership, and life.  They are: Self-Reflection, Balance and Perspective, True Self Confidence and Genuine Humility.  We will explore the way in which a life filled with balance, perspective, humility and integrity is the path we feel is critical to our patient's long-term health and recovery.  Additionally, it is also a set of traits and values which have proven to be at the core of Harry's personal and professional life, including his success in running one of the world's largest companies while remaining true to his core set of beliefs and values.  Harry leads and lives with his choices aligned with his values, even in challenging times such as in 2001 when Baxter faced a major international crisis.
Please join us for a special evening full of hope and inspiration. We will serve food beginning at 5pm and Harry will begin speaking at 6pm. We will have time for questions following his presentation.
Please feel free to invite your colleagues, but space is limited, so please RSVP for your entire party!
---
Dr. Kimberly Dennis, founder, CEO and medical director of SunCloud Health, was a featured keynote speaker at the 18th annual Erin Leah Robarge Memorial Seminar, focusing on the issue of co-occurring disorders.
Watch the video or read the news below or click here to read the published page.
Treating an eating disorder is difficult enough. Throwing substance abuse on top of that can present additional problems.
Their daughter, Erin, who Barbara wrote a book about, died in the year 2000 at the age of 23 after more than a decade-long struggle with anorexia and bulimia.
"When donations came in in memory of her, we thought 'What do we want to do to make her death somehow meaningful and have something positive come out of our experience and her short life?'" Barbara said.
They teamed up with Erin's nutritionist to bring the annual conference to fruition and educate clinicians and family members on expanding their knowledge base on eating disorders and how to provide support.
"It killed Erin and it's killed others and there just needs to be so much education and that's what we set out to do," Andrew, Erin's stepfather, said.
Although Erin did not struggle with substance abuse as well, the conference covers a different aspect of eating disorders every year.
This year focused on how patients with co-occurring disorders, like a dual diagnoses of an eating disorder and substance abuse, are sometimes treated separately because some clinicians are trained in one area but don't feel comfortable treating the other.
"There's no real training program for that combination although there's a huge overlap in people with addictions and eating disorders," Dr. Kim Dennis, CEO and cofounder of SunCloud Health, said. "Up to 50 percent of people with eating disorders will have an addiction and few eating disorder professionals have any addiction training and vice versa."
Keynote speakers shared information with the crowd exploring the role of the brain, genetics, trauma exposure, and cultural and environmental influences, and how clinicians can effectively treat patients at all levels of care.
---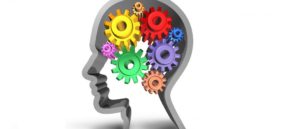 In a recent article "Call to apply an outcomes and value-based approach to mental health", published by ScienceBusiness.net – Author Gary Finnegan explores the push to develop standards and enable mental health to join the value-based healthcare revolution; sighting SunCloud Health as an example of this movement and David Newton as a thought leader on the subject.
The time is now right for the value-based approach to healthcare pioneered by Harvard economist Michael Porter to be applied to mental health. Services should be integrated into a holistic healthcare model focusing on outcomes that matter to patients, says David Newton, co-founder of SunCloud Health, a mental health clinic modelled on Porter's approach.
Value-based healthcare is reshaping hospital care and improving surgical outcomes but has been slow to catch on in psychiatry.
Measuring outcomes that matter to patients is at the heart of the value-based approach which has been dubbed the Strategy That Will Fix Health Care by its supporters. Newton, who studied under Porter, is calling for the silos between mental and physical wellbeing to be broken down.
Payers, he says, should reward clinics that can demonstrate overall improvements in measurable patient outcomes, while providers should measure and share patient data in a uniform way.
---
Hynes Recovery Services highlighted SunCloud Health to the Hynes Recovery Services Treatment Network, identified as a top notch treatment facilities as part of their growing list of resources available to college students nationwide seeking support for their eating disorder.
Special thanks to Dawn Hynes, MSW, Hynes Recovery Services for the recognition.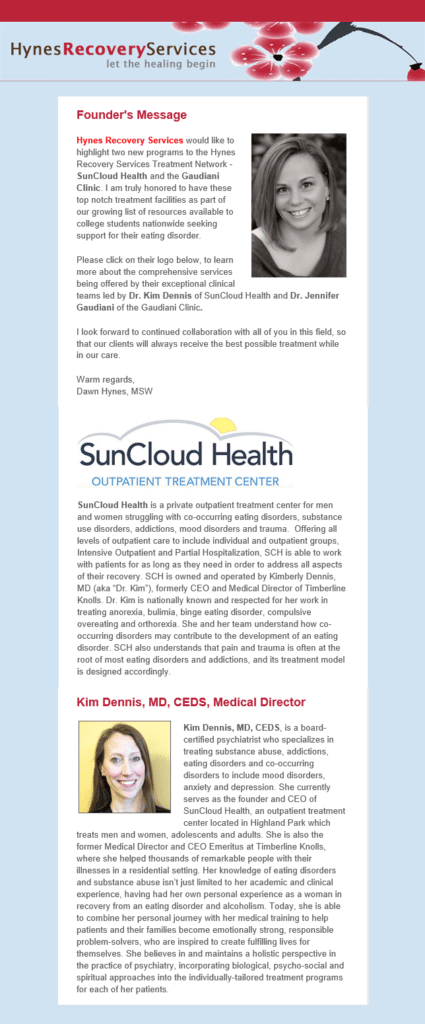 ---

Dr Kim will be featured speaker at this years ICHOM conference, October 25th – 26th, 2017, in Washington, D.C.
We're helping to spread the word on ICHOM's mission to unlock the potential of value-based health care by defining global standard sets of outcome measures that really matter to patients with relevant medical conditions, driving adoption and reporting of these measures worldwide.
We hope you will join us at the conference.
Follow the ICHOM on social:
Twitter: http://bit.ly/2rG2CcO
LinkedIn: http://bit.ly/2qHorUj
Conference hashtag: #ICHOM17
Dr Kim's will be speaking on day two of the conference – read more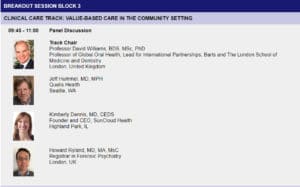 ---
SunCloud Health is celebrating our one year anniversary!
We proudly serve patients from the Northshore to heart of Chicago. We have an amazing group of therapists committed to providing the best care and restoring lives for people in our community. What's coming? As we move in to year two at SCH, we do so with a tremendous amount of momentum, excitement, passion and humility.  In year one year we have successfully launched our daytime adult IOP and PHP programs along with several outpatient groups and individual treatment. Next is an evening adult IOP and an adolescent IOP.  In the meantime, we are in the midst of expanding space in our current location and working toward, "SCH #2" in downtown Chicago. At the heart of everything we do is the quality of clinical work that goes on inside of these four walls.  The care team we have built and continue to build around our patients' condition is by far the most important part of what we do.  Shale Marks, LSW, CADC and our Acting Executive Director, shares his thoughts on where we are at and where we are going in his video clip.
Recent additions to our team include a full time Registered Dietitian and several therapists, including Hannah Carra.  Every member of the SCH team shares a belief that we must all do our own work in order to provide the best possible care to our patients.  Hannah eloquently speaks to this in her video clip, which we hope you will watch. SCH and Dr. Kim will be speaking at several events over the next few months, all of which are extremely exciting. We are humbled by all of these opportunities and hopeful that those who attend will find value in our participation. Please see below for a list of where we will be this fall, and please come and support us at each of these amazing organizations if you can!
Treating those who struggle with process addictions and mood disorders in an incredibly challenging venture.  These are not broken bones which can be easily diagnosed with an x-ray and treated with a standard operation with fairly predictable outcomes and a prescription for rehab.  The diseases we treat are complex, often with multiple layers to them.  A diagnosis can change once a patient engages in treatment, and what works for one does not necessarily work for another. Outcomes are difficult to measure and none of us are measuring the same outcomes anyway.  Care models are fragmented, and waste is abundant. Patients are often discouraged from getting help because of stigma and shame and payers don't want to pay for treatment in large part because they have no idea what they are getting for the money they spend. Ultimately, all of this often results in even more treatment and subsequently more cost.   It also results in poorer outcomes for our patients, which is ultimately what matters most.
There is great potential for improvement on all of these fronts as we move away from a fee for service model and in to a value based model. This new paradigm will naturally align interests, create value and improve quality of care.  We support this powerful shift in medicine and are proud to recognize Beacon Health Options and Column Health for their innovative and exciting collaboration in pioneering a value based model for treating opiate addiction. We are grateful for the risk and the vision both organizations are showing in this effort and we look forward to continuing to be a part of the future of behavioral health in a similar way. READ HERE for the press release.
---
Dr. Kim Dennis represented SunCloud Health at Residential Eating Disorders Consortium (REDC) Lobby Day alongside Congresswoman Jan Schakowsky, Veritas Collaborative, Alliance for Eating Disorders Awareness, Center For Discovery, & others to collaborate on issues impacting residential treatment programs for those struggling with eating disorders.
For more information on REDC, visit www.residentialeatingdisorders.org.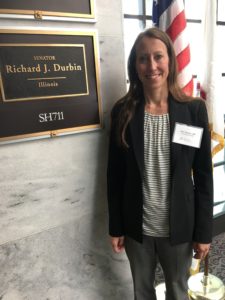 ---
A Unique Opportunity for Dr. Kim and SCH to Collaborate with Judges and Lawyers in Family Court On Drugs, Alcohol and Parenting.
MAY 12, 2017 – TOPIC – Medical Marijuana and Beyond
The Landscape of Illegal, Prescription Substances and Abuse in 2017
Related to Family Law Cases
SCH is honored to announce that Kimberly Dennis, MD, Founder and Medical Director of SCH, will be participating as a panelist on the topic of drugs and addiction in family law cases.  The nexus between broken families and addiction is one that we see every day at SunCloud, and the victims who need and deserve more support than anyone are often the innocent children who are stuck in the middle.  With as much progress as the legal system has made in recent years in recognizing the need for compassion for these diseases over punishment for "poor choices", the fact of the matter is judges and lawyers still need a lot of support in navigating these sometimes-murky waters full of ignorance, lack of education, stigma, shame, deception, uncertainty, risk and fear.
US family law courts see millions of families every year dealing with the messy and often highly emotional reality of divorce.  As compassionate as judges want to be when trying to make the best decision for a family, the reality is many of them simply do not understand or have the education to make informed decisions, particularly when drugs and alcohol are involved.  They are not to blame.  Even the most well trained clinicians don't always know what is right and wrong when dealing with addiction and other self-destructive behaviors turned to as people are generally trying to deal with pain and loss.  Things like how to assess what truly is in the best interest of the child when drugs are involved, what constitutes genuine and sustainable recovery, how to read and interpret a drug panel test or whether or not to trust what a litigant's legal advocate is arguing for their client are all areas where judges need support.  Most lawyers could benefit from much the same; when to trust their client, who may be suffering from the disease of addiction, how to balance the best interest of their client with the best interest of their client's children and most importantly how to help their clients seek the help they need without fear that the court system will punish those who humbly and genuinely seek the help they need.
This is where Dr. Kim comes in.  This is truly a remarkable and unique opportunity to make a huge difference in a community that needs and most impressively wants the help.  As a parent, a woman in recovery and an experienced psychiatrist who has successfully treated thousands of people suffering from various forms of addiction, this is a once in a lifetime opportunity to engage with a community which has so much power with people who have lost so much power.
Other panelists include The Hon. Jeanne Cleveland Bernstein, The Hon. David Haracz, The Hon. Maritza Martinez, The Hon. Mark Lopez , Marsha Fisher Esq. James Palmisano noted attorney, John Wroblewski litigator and child representative, Special Agent in Charge Dennis Wichern an Agent James Jones.
Fact: According to the American Psychological Association, between 40-50% of married couples in the United States end in divorce, and that rate is even higher for subsequent (second) marriages.
Fact: According to many reliable surveys including the Holmes and Rahe Stress Scale, divorce is the second most stressful life event behind "death of a spouse" and above other traumatic events such as imprisonment, dismissal from work and personal injury or illness. Divorce is particularly stressful and traumatic for the innocent children of divorce.
Fact:  Early childhood trauma has been shown through many well-established studies to increase ones chances of becoming dependent on alcohol and drugs later in life.
Fact:  The number one cause of divorce is infidelity. Drinking or drug ranks third.
Fact:   Though most will never see the inside of a court house, the reality is millions of people every year find themselves inside the walls of Family Court dealing with these very issues.  Major decisions are made inside of these walls which can have long lasting consequences for families and our society in general.
SAVE THE DATE! MAY 12, 2017 – TOPIC – Medical Marijuana and Beyond – The Landscape of Illegal, Prescription Substances and Abuse in 2017
Related to Family Law Cases
LEDDED LTD. and its panel of experts will examine the above issues in a Seminar on May 12, 2017. The panel will consist of Judges, Guardians for Minor Children, Attorneys who represent the parents and a nationally recognized Psychiatrist who has successfully treated thousands of people in her career for various forms of addictions. The three-hour seminar will go into depths on many topics related to Substances Abuse. First the discussion centers on the issue of Schedule I drugs, and the effects they have on parenting. Second, the issue of Abuse of Prescription Drugs, benzodiazepines, opioids, steroids, and other substances, including Drinking Alcohol and its interactions with prescription drugs. Good parenting, and the effects of prescribed drugs from birth defects, peer pressure and recreational drug use, as well as Under the Influence driving are all topics to be explored. Medical Marijuana is in a pilot test in Illinois, scheduled to end in 2020. Since 2015, Medical Marijuana has been used as a defense in substance abuse cases related to Child visitation and custody. The law has specific criteria and often those are overlooked by attorneys representing a litigant with or without a legal prescription. That is of major concerns where Best interest of the Child needs to be applied. At the same time, on a national basis, an opioid crisis and other excessive use of Schedule I and II drugs (classified by the National Drug Enforcement Agency of the Federal Department of Justice) have been identified. The panel will discuss and consider the issues related to abuse of prescribed drugs
Prepare your questions, this is the seminar you will not want to miss.  Whether you are a judge, a litigator, children's lawyer, or an evaluator under the new statute, you will want to participate in this event.
As always, not for profits, government agency representatives and retired counsel are invited at reduced rates.  Early bird rates from February 20 – April 1 will apply.
Please contact Nancy Mynard at [email protected]  or 312 493-0260 for more information and enrollment
---
Read David Newton's post in the CTAD (Community the Anti-Drug) April 2017 newsletter.
Encouraging Positive Choices 
During Alcohol Awareness Month
by David Newton, SunCloud Health
The disease of addiction in America is one that seems to be getting worse as evidenced by what has become commonly known as the "opiate epidemic." The good news is that a person doesn't typically wake up one morning and decide to use heroin. Addiction is a progressive disease, which generally starts with alcohol or marijuana. As tolerance increases, the need for a stronger drug to achieve the same high also increases, and as a result, a person may turn to "harder" drugs such as opiates and cocaine. Because alcohol can be stop number one on the path to addiction, it is incredibly important to do everything we can to encourage our kids to stay away from alcohol. Medically speaking, alcohol is a poison and for those predisposed–either genetically or environmentally–to any sort of addictive behavior, the slope can be very slippery. READ MORE
---
Proud to be on the board of Community – The Anti-Drug – http://communitytheantidrug.org/about/executive-board  
We share values and support the C-tad mission of keeping our teen drug and alcohol free!
The mission of Community – The Anti-Drug is to reduce the use and abuse of alcohol, marijuana, and other drugs among youth in Bannockburn, Deerfield, Highland Park, Highwood and Riverwoods.
The Coalition is a volunteer-led organization which strives to build and sustain a safe and drug-free community in which our youth feel protected, confident and empowered to make healthy choices. We bring together input and contributions from all sectors of the community—schools, parents, youth, government, healthcare, faith, law enforcement, youth-serving organizations and more—to transform the environment around our youth so that the drug-free choice is the easy choice. We regularly identify and implement best practices, strategies and solutions that are proven to be effective in accomplishing our mission.
---
To better serve you, we've moved! Our new address is 40 Skokie Blvd, Suite 200, Northbrook, IL 60062. Our telephone number remain the same (866) 729-1012. Stop in and check out our beautiful, comfortable outpatient facility. 
---
Congratulations to Dr. Kim, named to the National Advisory Board and University ED Recovery on Campus by Hynes Recovery Services, most notably for her expertise on Eating Disorders, Co-Occurring Substance Use Disorders, Mood Disorders and Trauma. READ MORE 
---
Dr. Kim Dennis delivered presentations on the Medical Complications of Eating Disorders and Food Addiction: New Research Fuels the Controversy, at the CAPTASA Conference on January 27th, 2017. The conference was presented by Kentucky Physicians Health Foundation.  
The Kentucky Physicians Health Foundation has helped licensed professionals impact addictive disease and mental or emotional illness through advocacy and care management including confirmation of impairment issues, intervention, assessment, directing acute treatment, and aftercare.
Dr. Kim is graciously sharing her slides from both presentations; the Medical Complication of Eating Disorders and Food Addictions; additional information contact SunCloud Health.
---
December 7 Event at SCH
Located in Highland Park, SunCloud Health is pleased to announce an evening of education and discussion on the topic of prevention, early detection, awareness and the myriad of treatment options for children/teens struggling with substance use disorder, eating disorders and other mood disorders such as depression, anxiety, PTSD and trauma.
Led by Kimberly Dennis, MD, and clinicians at SCH, this evening is specifically designed for parents, school counselors/social workers, athletic coaches, teachers and other members of the community who are at the forefront of the current addiction epidemic. Those who may not be "professionally trained" to know what to do, what not do to, and when, will be the focus of this enriching and informative event.  The evening will include a brief presentation and then a discussion with plenty of time for questions and answers.  Don't miss this opportunity to spend an evening with nationally renowned psychiatrist, Dr. Kim Dennis, MD.
Please join us December 7th, 2016 at 5 pm at:
SunCloud Health
210 Skokie Valley Rd. Suite A, Highland Park, Illinois  60035
PLEASE RSVP TO [email protected]
Dr. Kim Dennis, MD is a board-certified psychiatrist who specializes in treating substance use disorder, process addictions, eating disorders and co-occurring disorders such as anxiety, PTSD, depression and trauma. She currently serves as the founder and CEO of SunCloud Health, an outpatient treatment center located in Highland Park which treats men and women, adolescents and adults. She is also currently the Medical Director and CEO Emeritus at Timberline Knolls, where she has helped thousands of remarkable people with their illnesses in a residential setting.
Refreshments and appetizers will be served.
_______________________________________________________________________________________________________________
Dr. Dennis Will Be The Keynote Speaker at the Next November Meeting of Eating Disorders Network
She will be speaking on "The Many Faces of Trauma in Patients with Eating Disorders". The emphasis will be on recognizing trauma effects when they appear in a session and designing treatment to reduce or eliminate those effects.
Title: The Many Faces of trauma in patients with eating disorders
Objectives:
1) be able to define trauma, understand the prevalence of trauma and PTSD in the ED population, and the factors which interfere with its identification.
2) understand the impact of early adverse experiences on brain development  and epigenetics
3) recognize clinical manifestations of trauma in ED patients and common therapist reactions to these ("resistance," ,"borderline" "behaviors", "dropout").
4) understand evidence base for integrated treatment for patients with co-occurring ED and PTSD.
The November meeting of the Eating Disorders Network will be held on: Friday, November 18, 2016 from 12:30-2:30pm at Francesca's North Restaurant
Please contact Robin Ross, PhD, Founder, Chicago Area Eating Disorders Network @[email protected] for more information.
_________________________________________________________________________________________________________________
It's Official, SunCloud Health IOP Is Now Open.  
Our next group is scheduled to run from 5-8:30 pm Mondays, Wednesdays and Thursdays.  We are working on building a group for adolescents. Please Contact Us For More Information, to include information on a sober housing component in collaboration with A Fresh Start, a sober living environment conveniently located in multiple locations throughout Chicago for patients from out of town or for patients who for one reason or another would benefit from getting away from home while in treatment.
Check out our open house video!
---
Meet the SunCloud Health Team at NEDA Conference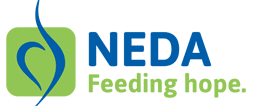 Professionals, families and friends are all welcome at this year's National Eating Disorder Conference (NEDA) next week in Chicago.  The Sky's The Limit is a great theme for this year's conference.  At SCH we couldn't agree more! With proper diagnosis and treatment, recovery from these deadly diseases is attainable.  Helping people achieve freedom from their self-destructive thoughts and behaviors is what we try and do every single day.  The sky is indeed most definitely the limit.
Stop by booth #102!
We look forward to visiting with you and encourage you to reach out and set up some time to talk should you want to meet individually.
THE SKY'S THE LIMIT – NEDA Conference
September 29 – October 1, 2016, Chicago, IL
http://www.nedaconference.org/
---
Where to see Dr Kim live?
Attend the ANDA One-day conference, on September 9, 2016.

The purpose of the ANAD conference is to bring together renowned professionals from across multi-disciplines to continue the education process on the topic of eating disorders. It is a common goal of the eating disorder community to help individuals on their path to overall health and wellness and this can be achieved by attending ANAD's One Day, Wellness, Not Weight,
Sign-up and see Dr Kim live here!
---
Thank you C-tad!
We enjoy sharing our stories and successes, great to see the C-tad posting a SunCloud Health story and sharing it on social media..
Its a great group that really cares about community.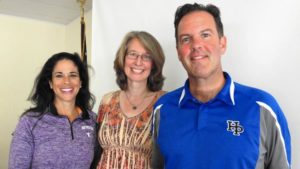 The perspective of a sober teen on the North Shore–it's up to us to let our teens know that the data shows most of them don't drink and most don't get high. And our community definitely wants to do something about it. We care.
Read More about C-tad in the Chicago Tribune  – C-tad – Community: The Anti-Drug